Another installment of the Holstein Foundation's cornerstone program, Young Dairy Leaders Institute (YDLI), has come and gone, with forty-two young adults from the U.S., Canada, Mexico, and Italy, completing the three-phase leadership and communication skills development program. The group met for their Phase III training February 29 through March 3 in Albuquerque, N.M. Building on the skills they learned during their first meeting last spring, along with what they have practiced and accomplished over the past twelve months, the class participated in workshops covering topics such as advanced media relations skills, conflict management, and the public policy process.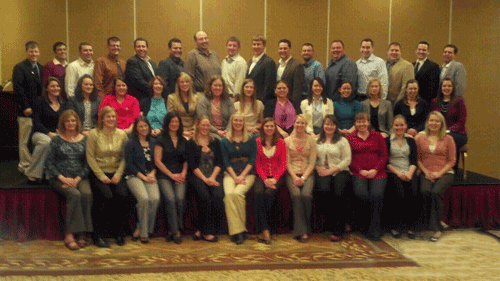 "YDLI was truly was a life-changing experience for me," said Andy Birch, YDLI graduate from Vermont. "It is good to know that there are so many talented and energetic young leaders in the dairy industry and I am sure the connections we made will help us for the rest of our lives."
Featured speakers on the "All-Star Leadership" roster included:


Joan Horbiak and David Pelzer, who presented "Media Spring Training," focused on mastering interviews with the media and speaking with consumers


Pete Kappelman, YDLI Class 1 alum and current chairman of the Land O'Lakes board of directors, who delivered an inspiring message about accomplishing leadership objectives


Wes Jamison of Palm Beach Atlantic University, focused on conflict management and resolution, going from identifying your personal "conflict style" to crafting effective messaging to convey your point of view. Jamison also moderated a debate about the animal rights movement between Gene Baur, co-founder of Farm Sanctuary, and Wesley J. Smith, a lawyer and pro-animal agriculture author, which was enlightening for all.


Bonnie Burr, YDLI Class 1 alum, led a session on understanding public policy and gave participants hands-on experience with the governmental process.


Ty Bennett was the closing keynote speaker, who hit a home run with his talk about the "Power of Influence." His message left the class inspired and feeling empowered to continue their leadership journey and have a lasting influence on those they interact with.
Another highlight of the conference was each class member reporting on their personal advocacy projects and presentations made in their home communities during Phase II, which has taken place over the past year. Through their combined efforts, the class reached thousands of consumers, spreading dairy's positive message. Katie Hohmann, of Illinois, educated people about the benefits of chocolate milk as a recovery drink, working with her local YMCA and a running club. Bryce Bonow, Minnesota, put together a dairy activity day for school-age children, taking them through several stations that covered various aspects of life on a farm, and getting them excited about the dairy industry. The five Canadian YDLI participants, recognizing a need for a consumer-oriented online dairy resource in their country, joined together to create the Canadian Dairy Advocacy Group (CDAG) web site, where they regularly blog about dairy-related information, geared towards the general public. These are just a few examples of the wide range of projects that class members planned and executed.
The Holstein Foundation and Young Dairy Leaders Institute participants would like to sincerely thank the many gracious sponsors who made the experience possible. Institute Leaders include Allflex USA, Inc.; Cargill, Inc.; Dairy Management, Inc.; Elanco Animal Health; Farm Credit System Foundation; Hoard's Dairyman; Holstein Association USA, Inc.; and the Northeast Agricultural Education Foundation. Institute Supporter sponsors are CHS Foundation; Dairy Business Communications; Dairy Farmers of America; Farm Credit Northeast AgEnhancement; GEA Farm Technologies; Land O'Lakes Foundation; Pfizer Animal Genetics. Institute Friends include Animal Health International; Robert L. Cain Memorial Fund; Center for Dairy Excellence; COBA Select Sires; Cooperative Resources International; Dean Foods Company; Hilmar Cheese Company, Inc.; International Food Information Council; KeyBank; Pioneer Hi-Bred International, Inc.; Select Sires Canada, Inc.; Select Sires, Inc.; U.S. Dairy Export Council.
For more information about YDLI or other Holstein Foundation programs, visit www.holsteinfoundation.org. With questions, or to request information about being a part of the next class of YDLI, contact Jodi Hoynoski, Holstein Foundation programs manager, at 800.952.5200, ext. 4261, or jhoynoski@holstein.com.
3.12.2012