Leader in mastitis prevention and control recognized by NMC and Boehringer Ingelheim Vetmedica, Inc., Prevention Works
Ken Leslie, Professor Emeritus at the University of Guelph was the recipient of the first-ever National Mastitis Council (NMC) Award of Excellence for Mastitis Prevention and Control. The award was sponsored by Prevention Works from Boehringer Ingelheim Vetmedica, Inc. and will be awarded annually to an active NMC member for sustained contribution to mastitis prevention and control through research, extension or education, clinical practice, or service to producers.
Professor Leslie is a well-known leader in milk quality research and education. His research spans high-impact work on use of SCC for mastitis diagnosis and monitoring, the impacts of an industry level SCC penalty program, published teat dip efficacy studies, and management of the drying-off process, just to name a few. Professor Leslie has advised or mentored over 70 graduate students and published over 170 peer reviewed papers in addition to a major textbook. Leslie enthusiastically championed the NMC 10 Point Plan for udder health and served on the organization's executive committee.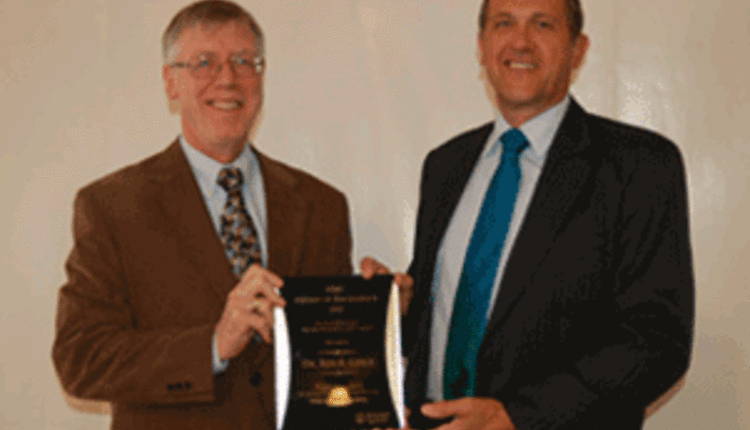 Ken Leslie, Professor Emeritus at the University of Guelph (left) was the recipient of the first-ever National Mastitis Council (NMC) Award of Excellence for Mastitis Prevention and Control from Dr. Eric Hillerton (right). the award was sponsored by Prevention Works, Boehringer Ingelheim Vetmedica, Inc.

Dr. Leslie is regarded around the world for his practical approach to research on how it translates to the farm. Cornell's Ynte Schukken, DVM, PhD and Director at Quality Milk Production Services says, "Without a doubt, Dr. Leslie is among the most influential scholars in our field of udder health and milk quality."

For more information about Boehringer Ingelheim Vetmedica, Inc., and their approach to cow health, Prevention Works, visit www.BIVIPreventionWorks.com.

3.28.2012