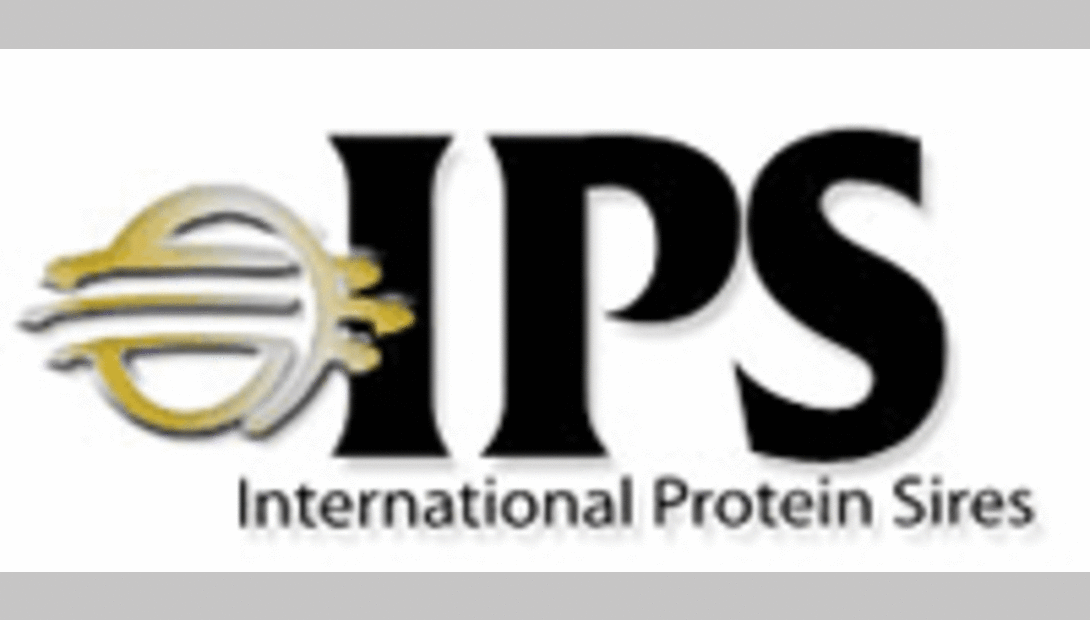 The April 2012 sire summaries resulted in new genetic trendsetters for International Protein Sires. "We are very excited with the positive developments of our proven sire lineup as a result of the recent proofs. The IPS genomic tested young sire offering also gained several new breed leaders. Dairy farmers around the world have endorsed the IPS genetic trendsetters; a profound assessment of their breeding value," stated Ron Sersland, President and CEO of IPS.
The newest proven IPS trendsetter, 6HO1126 Rockwell, came in with an impressive +2068 TPI and +1920 milk proof. Among his many attributes, Rockwell excels in components. In fact, Rockwell is the only progeny tested bull over +2.00 for type with milking daughters that exceeds 150 pounds combined fat and protein. Along with a strong type score of +2.18, the bull's foot and leg rating approaches +2.00. Rockwell descends from the "Queen of the Breed," Roxy. A son of Toystory, his five nearest dams classify Excellent. His EX-95 grand dam yielded 66,420 pounds milk at 4-10. As a source of refreshing bloodlines, Rockwell has no O-Man, Shottle, Goldwyn, Outside or Durham in his pedigree.
6HO1046 Bevan gains dairy farmer appeal with each sire summary. At +1884 GTPI, Bevan is a well-balanced bull for milk production and solid type traits. He is the only bull in the breed with +300 milk, +0.15% fat, +4.4PL and +1.20 type. Bevan is truly a fitness specialist. For those who utilize analysis for their breeding guide, Bevan offers the rare qualities of aAa: 246135 along with DMS: 456.
Another IPS breed leader is 99HO6145 Barry. Barry's prestigious SCR (semen conception rate) score of +4.7 ranks #1 among proven bulls having milking daughters with a type proof. This proven sire provides a complete package for type qualities at +2.04 along with milk yield. In addition, his components are excellent. While Barry's calving ease is unique at 6, he is an excellent source of strength. On Barry's maternal side, his three direct dams have received Gold Medal Dam designations. And, all three have superior components.
The IPS's genomic rated young sire offering has resulted in quality growth with several new additions. A leader of this pack is 183HO2131 Shame at +G2356. A top 50 caliber GTPI young sire, Shame would rank #2 for type at +4.15 and #3 for udder composite at +3.44. A Planet son, Shame is from an Excellent Shottle daughter. Following close behind Shame is 6HO1163 Lights Out. A Superstition son from an Excellent Shottle daughter, Lights Out is +2,305 GTPI. And from the exciting Red spectrum, 54HO552 Barbwire-Red is being used around the world. At +3.01 type, Barbwire is sired by Shaquille from the Excellent-95 Talent daughter, Barbara. Barbwire sired a four month old red calf that sold for $9,400 in the recent Siemer's Holstein Sale.
IPS continues to offer outstanding production bulls with 6HO1150 Yankee currently ranked #2 in the breed for milk. 36HO0400 Avalanche is a breed trendsetter in three categories; #3 for type at +3.58, #2 for foot and leg at +3.64 along with #5 for udder composite at +3.32. Two leading proven sires for productive life are: 6HO1152 Zade at 6.0 and 6HO1124 Tycoon-Red with a 5.6 rating.
These progressive genetic improvements position the IPS sire lineup among the breed's trendsetters. The worldwide growth for IPS genetics has resulted through an ever expanding independent distributor organization. Located in Rock Springs, Wisconsin, you may learn more about IPS through their website, www.ipssires.com or by calling toll free: 1.800.542.7593