A man of integrity and honor, David Gage Smokler passed away April 6, 2012, with a life fully lived and a remarkable legacy at the age of 85. He was a loving son, husband, father, grandfather, father-in-law, uncle, cousin and friend.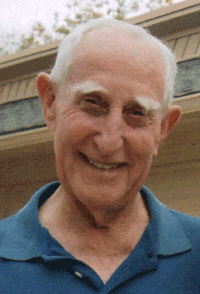 A gentle, kind man, who never met a stranger, David found joy and beauty in all things simple. He was born in Dallas, Texas, December 17, 1926, to Louis Harold Smokler and Pansy Myra Gage. After graduating from Texas A&M as the University's youngest veterinarian at age 19 and returning from his service in the U.S. Army, David married Rosemary Self. Over their 62 years of marriage, he adored his three daughters: Patricia Lewis, Janet King, and Susan Graves. He was blessed with five grandchildren: Kara and Jared King, Alicia Lewis, and Heather and Dave Graves. David enjoyed the company and conversations he shared with "the chosen" sons-in-law: Ron Lewis, Chad King, and James Graves.
As a third generation dairyman with Holtex Farm, David (Doc) Smokler mentored many generations of dairymen and farmers. As a premier dairyman, he was a pioneer in artificial breeding starting in the 1940s. He was respected nationally and internationally in the Holstein community. He served as President of the Texas Holstein Association and the Holstein Association USA and led the industry in genetic breeding and dairy management.
When asked how he was--he often replied "nearly perfect." David always said few people had the fun of working their lifetime at something they truly enjoyed. He was fortunate to have found a career in which he was able to combine his passion for nature, the outdoors and animals.
A private, family celebration of his life was held. In lieu of flowers, the family prefers a memorial donation to the charity of your choice. Condolences may be offered at www.millerfuneral.com or 3740 Cartwright Rd., PMB 262, Missouri City, Texas 77459.
4.19.2012