Z Tags North America L.P. recently was awarded the Producers Choice award in the National Agri-Marketing Association's annual Best of NAMA advertising awards competition. Z Tags is a leading worldwide supplier of livestock identification ear tags.
The winning print ad featured a photo of a cattleman and his herd with the headline "Where Seldom Is Heard A Discouraging Word" and supporting subhead "Must be a Z Tags user." Body copy focused on how the unsurpassed retention, readability and ease of application of Z Tags equates to unsurpassed customer satisfaction.
"Based on the response we've received from distributors, customers and publishers, we knew the ad was generating a great deal of 'buzz' in the industry," noted Stu Marsh, vice president of Z Tags North America. "But it's great to have these impressions confirmed by an independent survey of more than a thousand American farmers and ranchers."
"We're very pleased and honored to win this prestigious award," said Steve Engle, president of Engle Creative Solutions, LLC-the marketing communications firm that created the winning entry. "Unlike other categories in the Best of NAMA awards competition, the Producers Choice category is the only one where a cross-section of American farmers and ranchers vote on their favorite ads. So it's very rewarding to know that our work resonates so strongly with the men and women who actually use these products."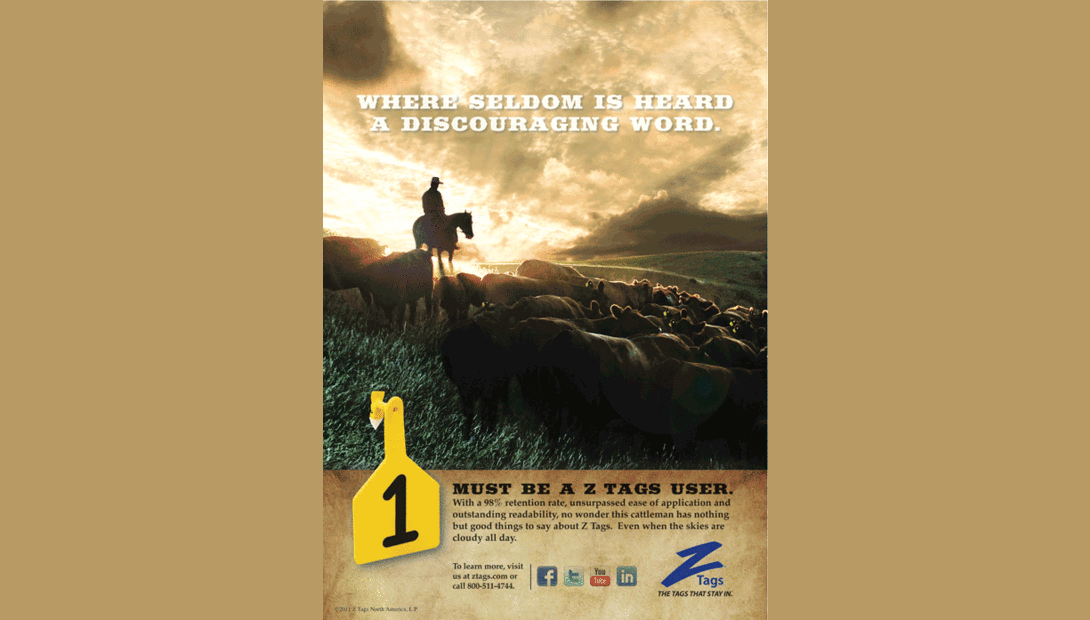 About Z Tags North America L.P.
While Z Tags North America L.P. was founded in 2009, its history of innovation and customer service goes back to 1992 when Farnam Companies Inc. launched the original Z Tags one-piece ear tag in the North American livestock market. Since then, the brand has continued to lead the way in livestock identification systems while maintaining the highest levels of customer service and satisfaction.
Headquartered in Phoenix, Arizona, Z Tags North America L.P. markets its product line throughout the United States, Canada, Mexico and more than 50 other countries around the world. While the company continues to grow as more and more livestock producers discover the advantages of its innovative products, Z Tags never loses sight of the importance of each and every customer.
5.02.2012