Quality Liquid Feeds, Inc. (QLF) is proud to announce expansion into multiple national and global markets. With these expansions, QLF will increase the ability to serve our growing dealer and producer customers.

A new liquid feed manufacturing plant in Clovis, New Mexico has been completed. With this expansion, QLF will increase the ability to serve dairy, cow/calf, feedlot, pelleted feeds and texturized feed markets. Construction for the facility began in August 2011 and was completed in January 2012. From this location, QLF will service primarily the states of Texas, Colorado, Kansas, New Mexico, and Utah. Manufacturing capacity for this facility is estimated at 150,000 tons annually.
QLF has acquired the liquid feed manufacturing plant and liquid feed business in Auburndale, Florida from Cargill Animal Nutrition. The acquisition was completed on April 30th, 2012. This plant will focus on the South Eastern United States market. Manufacturing capacity for this facility as it stands today is estimated at 50,000 tons annually.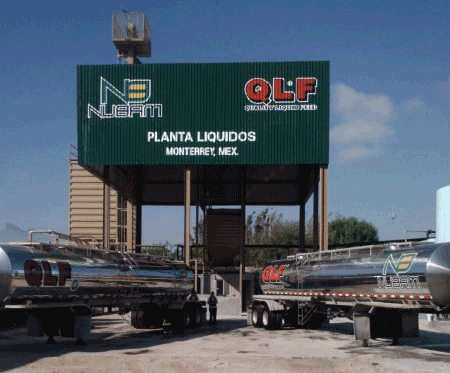 Globally, QLF liquid feed supplements are now available in Mexico. A licensing agreement was finalized in November of 2011 between QLF and Nutrientes Basicos De Monterrey S.A.DE.C.V (NUBAM) from Monterrey, Mexico. Under the licensing agreement QLF will provide NUBAM with support in building their facility, assistance with formulas, marketing materials, technical expertise, and use of the QLF name and trademarks. In return NUBAM provides QLF with a royalty for every ton of product produced. NUBAM began construction of their manufacturing facility in December of 2011 and began producing product on April 15, 2012. QLF has a similar agreement with Landowner Nutrition in the United Kingdom and is actively pursuing other opportunities with companies in other countries.
QLF has a number of Specialty Products in addition to animal feed.
A liquid fertilizer product line for crops was launched in April of 2012. The goal for the first year was to cover a minimum of 30,000 corn acres with one of its new products, and as of the end of April that goal was already realized. The goal of the product is to stimulate the microbial activity in the soil to supply superior nutrition to the plants. Testing has been ongoing for three years and includes crops such as corn, beans, alfalfa, cotton, and sugarcane.
QLF, in conjunction with the University of WI, has also tested a product for turf grass over the last three years and will launch this new line in the latter part of 2012. This line of products will be used on golf courses but can also be used in home lawn care.
A third line of products involves Waste Water Treatment Plants. QLF has developed a product to help feed the microbial bugs in the wastewater ponds to increase their activity in breaking down solids and reducing the amount of phosphorus that is released by the treatment facilities. At this time QLF has a number of active customers that are essentially test marketing the product. QLF is also working with the University of LaCrosse, WI further study the complete benefits of the product. QLF intends to launch this product in the latter part of 2012.
2011 provided QLF with tremendous growth. QLF started its own transportation division with 14 semis and trailers in November of 1999. The fleet of trucks and trailers was expanded between late 2011 and early 2012 to 110 semis and 125 trailers. The company owned fleet is an essential part of QLF's desire to offer excellent service to their customers as well as provide a higher degree of visibility and an increased value to the company's image in the country.
As a nationwide innovative leader in the developing and manufacturing of liquid feed supplements for the agricultural industry, QLF prides itself by being the largest user of domestic cane molasses, being a family owned US company and having a reputation for making products based on quality, consistency and service.
Our additional manufacturing plant locations include the following: Granger, WA; Casa Grande, AZ; Muskogee, OK; Dunlap, IA; LaSalle, IL; Wellsville, OH; Martin, MI; Menomonie, WI; Port Barre, LA.
Please visit our www.qlf.com website for more information regarding QLF.
5.04.2012