The Wisconsin Livestock Identification Consortium (WLIC) is pleased to announce the launch of the Identifying WisconsinTM branded tag program.
The voluntary Identifying WisconsinTM branded Official ID program is the first of its kind and has been developed with support from Wisconsin livestock producers, industry and the Wisconsin Department of Agriculture, Trade and Consumer Protection (DATCP).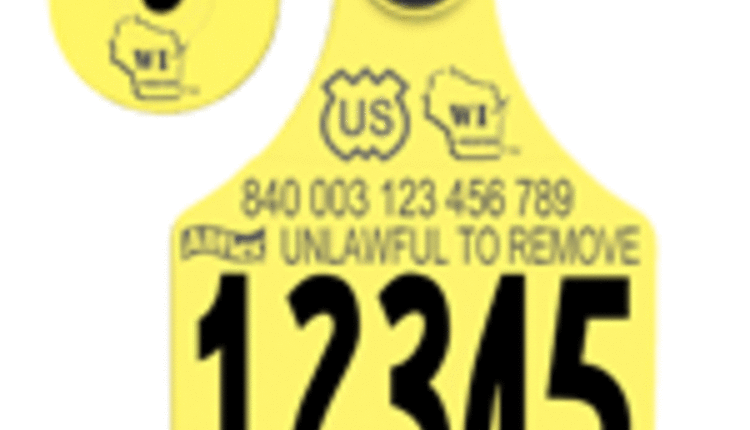 The Identifying WisconsinTM initiative is an independent, industry-funded program dedicated to accurate animal identification and highlights the consumer value and quality of Wisconsin livestock. The program was developed by producers, for producers and consumers.
Under the Identifying WisconsinTM program, Wisconsin producers with a premises ID can purchase approved AIN (840) and Premises ID tags. All tags approved for the program will carry the "Wisconsin Origin" seal that is printed by tag manufacturers and only distributed to farms in the state of Wisconsin through select distributors.
The tags offered under this program can be used to satisfy traceability needs for marketing, state and national animal health programs and on-farm management. Data about the farm of origin is housed in a producer and industry managed database located in Madison, Wis.
The Wisconsin Holstein Association endorses the program and stated, "The Wisconsin agriculture community wants to create a self-funded traceability program that meets regulatory needs of both producers and consumers. The Identifying WisconsinTM branded tag program is our first step towards achieving this. The branded tag identifies producer commitment to a quality product and helps bolster the values Wisconsin producers uphold in their own families and livestock operations."
On April 5th, 2012, Sara Lee Corporation announced that effective January 1st, 2015, they will require a premises identification tag in all sows that are delivered to its Newbern, Tenn. processing facility. Sara Lee is the first processor to step up and officially require premises ID tags, which will identify animals to the premises of origin in order to facilitate effective traceability if necessary for animal health reasons.
Dean Strauss, a Wisconsin producer stated, "Wisconsin has been and continues to be a leader when it comes to animal identification. As a dairy and beef producer, food safety is always at the front of my mind, and the need for animal traceability only helps maintain and grow consumer trust. The Identifying WisconsinTM branded tag program will continue to help build and develop markets that will help us remain a supplier of choice."
Recently, the Wisconsin Department of Agriculture Trade and Consumer Protection (DATCP) Secretary, Ben Brancel, made a trade visit to China to promote Wisconsin agribusinesses and to encourage trade. As stated in an article published by the DATCP, Brancel said, "There is a great opportunity for our state's businesses and organizations to build connections with China that could lead to future sales and exports. The exchange of technical support to accompany a product is as critical as the sale of a product for long- term success."
It appears that the launch of this program couldn't have happened at a better time for the livestock industry. As consumers, processors and export markets require more traceability of the product sold back to the farm of origin and the lingering concern of what would happen in the event of a catastrophic disease outbreak; the Identifying WisconsinTM program has allowed Wisconsin to take a leadership position in this effort and position itself to meet the needs of consumers both domestically and internationally.
If you would like to learn more about the Identifying WisconsinTM program, you can call toll free 888-808-1910 or visit www.identifyingwisconsin.org.
To purchase Wisconsin branded tags, please visit with one of the following Identifying WisconsinTM approved tag distributors:
• ANIMART – 855-254-6600
• Cooperative Resources International and Subsidiaries – 715-526-2141
• Holstein, USA – 800-952-5200
• Stearn's Veterinary Outlet – 877-608-3877
07.02.2012