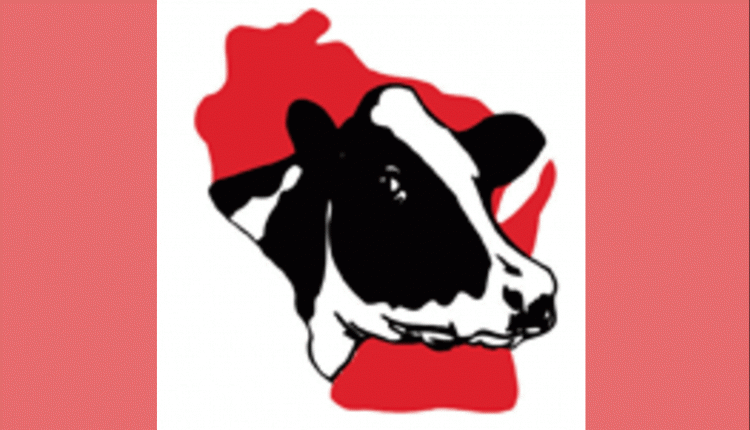 The Wisconsin Holstein Association recently recognized juniors from across the state for their outstanding judging and showing skills. Nearly 40 participants competed in this year's showmanship contest at the Wisconsin Championship Show. The contest was held in Marshfield, Wis., July 16th at the Central State Fair Grounds. Judge Katie DeBruin had the task of sorting through participants that were selected to qualify from 10 District shows held throughout the summer.
Placing first in the junior division was Megan Nelson from Trempealeau County, second place was awarded to Carley Krull from Jefferson County and third place honors went to Jordan Siemers of Manitowoc County followed by Mack Ostrom of Outagamie County and Hope Petersheim of Vernon County. With 23 participants in the junior division, these top individuals paraded around the ring showing with the best of the best in Wisconsin.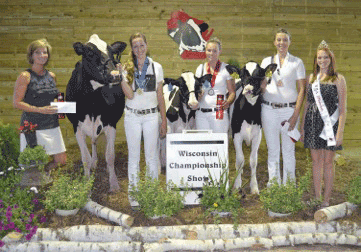 Placing with top honors in the senior division was Elizabeth Sarbacker of Dane County, followed by Andrea Pagenkopf from Grant County, Jessica Pralle of Clark County, Jimmy Jens from Sheboygan County, and Karsen Haag of Dane County. Senior division participants were ranked among 16 of the top showman in their respective age division from across the state.
Wisconsin youth also participated in a judging contest where they placed four classes and senior team members gave one set of oral reasons. Placing among the top teams in the junior division was the team from District 5 consisting of Adam Field, Alli Walker, Abby Field and Levi Kindschi. Second place was awarded to Pierce/Chippewa, with team members of Rachel Coyne, Paige Nelson, and Hannah Nelson. Third place went to Dodge County with team members of Mason Jauquet, Dawson Nickels, and Kylie Nickels. Fourth place was awarded to Manitowoc County with team members Jake Siemers, Vanessa Roberts and Connor Siemers. Rounding out the top five, fifth place went to Sheboygan County with team members of Cole Booth, Ava Booth, Campbell Booth, and Brianna Adamavich.
Taking home team honors in the senior division was the team from Dane County which consisted of team members Elizabeth Sarbacker, Lizi Endres, Cassi Endres and Sara Harn. Second place was awarded to Fond du Lac County with members of Darren Kamphuis, Derrek Kamphuis, Matthew Kramer, and Valerie Kramer. Third place went to David Pintens, Jacob Pintens, Dane Thompson, and Emily Mellendrung of Barron County. Fourth place honors went to Manitowoc County with members Tiffany Roberts, Brook Roberts, Crystal Siemers-Peterman, and Josh Siemers. Fifth place was awarded to the Dodge County team made up of team members Andy Sell, Bret Long, Katie Bauer, and Josh Bauer.
Senior Judging Winners:
Junior Judging Winners:


About Us
Wisconsin Holstein is a membership organization with the purpose of promoting the Wisconsin Holstein Registered Breed and its breeders and owners. For more information visit the WHA website at www.wisholsteins.com.

07.23.2012