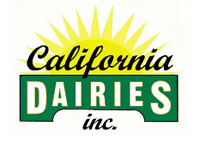 California Dairies, Inc. (CDI), the nation's second largest dairy processing cooperative, today announced the appointment of Dr. Eric Erba as senior vice president and chief strategy officer (CSO) effective immediately. He will report to Andrei Mikhalevsky, president and chief executive officer.
Erba is the former senior vice president of administrative affairs for CDI. He has been with CDI since 2006. Before joining CDI, Erba was the assistant director for the Division of Animal Health and Food Safety Services at the California Department of Food and Agriculture. He holds a doctorate degree from Cornell University in agricultural economics (dairy markets and policy specialty).
"I'm honored to have been promoted to chief strategy officer. I look forward to the new opportunities this position will provide and am pleased to be an integral piece of CDI moving into the future," said Erba.
"Promoting Eric to CSO is recognition of his outstanding performance and the significant contribution he makes to CDI. His broad understanding of the cooperative business model and his knowledge of economics, business strategy and government relations are highly valued," said Mikhalevsky. "As CSO, Eric will further strengthen and expand CDI in his areas of expertise."
About California Dairies, Inc.
California Dairies, Inc. is the largest member-owned milk marketing and processing cooperative in California producing 43 percent of California's milk. Co-owned by more than 420 dairy producers who ship more than 17 billion pounds of Real California Milk annually, California Dairies Inc. is a manufacturer of quality butter, fluid milk products and milk powders. In addition, California Dairies Inc. is the home of two leading and well-respected brands of butter – Challenge and Danish Creamery. California Dairies' quality dairy products are available in all 50 United States and in more than 50 foreign countries. For additional information on California Dairies, Inc., visit www.californiadairies.com.
07.24.2012