The GYPSOIL™ division of Beneficial Reuse Management, based here, announces the recent hiring of Dr. Patrick McGinnity as national sales manager. Rich Kann joins as territory sales representative for Iowa.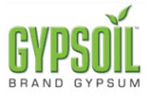 Dr. McGinnity previously served as director of business development for Calcium Products, Inc., the Gilmore City, IA-based marketer of mined agricultural products, including gypsum. In his new role, Dr. McGinnity coordinates all sales of GYPSOIL brand gypsum direct to agricultural crop growers and via distributors and agricultural retailers. He will also oversee the development of the company's rapidly expanding sales team and distribution network now covering 15 states in the Midwest, Southeast and Mid-South.
GYPSOIL works with coal-fired utility companies that produce flue gas desulfurization (FGD) gypsum and other processing plants that produce byproduct gypsum for use in crop production. Crop growers producing corn, soybeans, alfalfa, wheat and other crops, use gypsum to amend soils for improved moisture infiltration and storage, reduced nutrient runoff and erosion, amelioration of aluminum toxicity, improved rooting, and protection against compaction. FGD gypsum – or calcium sulfate dihydrate-- is a safe and effective byproduct of state-of-the-art wet-scrubbing technology that reduces pollution at power companies.
In addition to managing the sales team, Dr. McGinnity is responsible for developing GYPSOIL's sales information systems. As part of the GYPSOIL senior management team, Dr. McGinnity will help develop strategies to grow the GYPSOIL brand and solidify its position as the pioneer and market leader in bringing byproduct gypsum to the agricultural marketplace.
"It is exciting to be working with GYPSOIL to help crop growers realize the many benefits of using gypsum as a soil amendment to improve overall crop performance and help protect the environment," says Dr. McGinnity who has over 30 years experience in sales and marketing of agricultural products at leading companies such as Rohm & Haas, PPG Industries, NuFarm America, and Syngenta.
Dr. McGinnity has a PhD in Soil Microbiology from the University of Minnesota and has lead product development and research efforts at a number of companies engaged in developing agronomic and soil-related products.
Rich Kann joins GYPSOIL as a territory sales representative after serving as director of planning for Validus Services, Urbandale, IA. In his new role he will assist Iowa growers in the agronomic decision-making and use of GYPSOIL brand gypsum. In addition, he will support GYPSOIL's expanding network of agricultural dealers and distributors within Iowa.
In his previous role, Kann was responsible for helping agricultural producers develop comprehensive nutrient management and conservation plans. He earned a bachelor's degree in agricultural systems technology, with a minor in agronomy, from Iowa State University.
For more information about GYPSOIL and Beneficial Reuse Management, visit www.gypsoil.com.
About GYPSOIL
GYPSOIL is a division and trade name of Beneficial Reuse Management LLC. Our mission is to make a positive impact in our customers' soil while conserving natural resources and protecting the environment.
07.30.2012