Move planned for Fall of 2012 is not expected to delay production

Construction has begun on the future home of
Vets Plus, Inc.
(VPI). The animal health company will be moving its office and production to a new location at 302 Cedar Falls Road, Menomonie, WI, in the fall of 2012.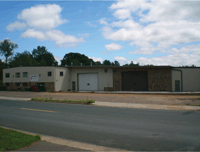 "This move to Menomonie is part of our long term strategy for growth," said Vets Plus, Inc., President and CEO
Raj Lall
. "Vets Plus has experienced significant growth in Knapp over the past 20 years and the decision to relocate was not an easy one. The new building will better accommodate our current business needs and will allow us to expand," explained Lall.
The former distribution building will require a two-story addition across the front to create additional office space. Inside, the production area will be optimized for efficient workflow. When completed this fall, the combined manufacturing, warehouse, and office space will total nearly 60,000 ft2. VPI will manufacture the majority of products at this location and will continue production of Soft Chews in the dedicated facility, another 50,000 ft2 building located at 4602 Domain Drive, Menomonie. All full time employees currently working in Knapp, WI, will relocate to the new building in Menomonie.
In every step of planning for the relocation, the customer remains the focus. "VPI is making every effort to eliminate lost production time, and we assure our customers that products will continue to ship on time during the transition," said Lall. He added, "This is an exciting step forward for Vets Plus and we look forward to being in Menomonie for many years to come."
About Vets Plus, Inc.
Vets Plus, Inc. (VPI)
, located in Knapp, Wisconsin, is a leading manufacturer and distributor of animal health and nutrition products, including Probios®, Replamin®, Swine Prefer™, Pets Prefer™, Goats Prefer™ and Horses Prefer™ product lines.
Founded in 1990 by entrepreneur Raj Lall, VPI began manufacturing and distributing animal health and nutrition products. By 2002, VPI had formed a strategic marketing and manufacturing alliance with Chr. Hansen in Denmark, thus earning the license to market and manufacture the Probios® line of products. From 2005-10, VPI, was known as BOMAC Vets Plus, Inc., after a partnership agreement was reached with Bomac of New Zealand. During that time, the company also formed a strategic marketing and manufacturing alliance with Albion Animal Health on Replamin® and Pull Thru® brand products (2008). Following the acquisition of BOMAC New Zealand by Bayer (Germany) in late 2010, the company has successfully transitioned back to Vets Plus, Inc., and now boasts 100,000 square feet of manufacturing / warehouse / office space. VPI is proud of its continued growth into a leader within the animal health industry and ability to manufacture more than 350 products, while maintaining ISO-9001 and NASC certifications, and remaining cGMP and AFFCO compliant. VPI is also a member of the American Pet Products Association (APPA).
08.02.2012