New BoviCare™ primes calves for a strong start
Research has proven, when newborn calves start life sick and weak, they are often late getting bred and tend to have more health problems. The quest for healthy calves is now easier with the revolutionary new product, BoviCare™. This natural product contains killed Cryptosporidium parvum (C. parvum) proteins.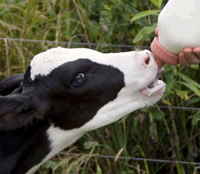 "C. parvum infections are most severe in calves less than 3 weeks old, causing diarrhea and weight loss," says Mark Meyer, President of Mg Biologics. "BoviCare™ is an egg-derived killed C. parvum protein. BoviCare is different from other egg-proteins because most of those work as a passive antibody product, which is entirely different from the science involved in BoviCare™.
"Designed to meet enteric health needs, BoviCare™ conditions the gut for improved health with increased weight gains and feed efficiency," continues Meyer, who founded Mg Biologics in 1999 near Ames, Iowa. "Within the first month after administration, you should see increased weight gains in calves as well as visibly healthier calves."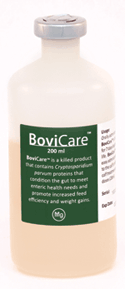 BoviCare™ is easy to administer orally in milk replacer during morning and evening feedings. In just 7 days, a calf's stomach will be fortified for improved efficiency, resulting in a visibly healthy calf.
Mg Biologics, established in 1999, is a USDA-CVB producer of specific antibodies and has been a leader in the development and marketing of specific antibody therapies. Mg Biologics is the only licensed distributor of BoviCare™, a technology patented by Oragen Technologies, Inc. For further information about BoviCare™, contact Meyer at (877) 769-2340 or www.bovicare.com.
09.06.2012