The August 2012 USDA calculations for SCR (Semen Conception Rates) revealed that IPS (International Holstein Sires) had the #1, #2 and #3 Holstein sires. "We were very pleased that IPS had the top three Holstein bulls for SCR. Since our inception, IPS has strived for dairyman endorsed results with high conception. Maintaining our standard of thirty million sperm count per unit of semen is one of the contributing factors in achieving these results," expressed Ron Sersland, President and CEO of IPS.
Barry Daughter: BV-SS Barry Peppermint VG-86
Owner: Bassvale Holsteins, Wisconsin
The #1 daughter proven SCR bull in the breed is 99HO6145 Barry with +6.1 SCR on more than 2,000 inseminations. At nearly +2.00 for type, Barry's udder composite is +1.83 and +1.50 FL. He has attained a superior rating for PL at +1.8 and SCS at 2.70. Barry also excels for components, both fat and protein. Barry is a Shottle son from a Very Good daughter of Bellwood Marshall that also received the Gold-Medal-Dam designation.
Jehosaphat
Maybe the most exciting genomic young sire is 99HO7070 Jehoshaphat with a +5.5 SCR, ranked #3. At +2143 GTPI, Jehoshaphat is sired by Planet from a Very Good-88 classified daughter of Shottle. With a milk proof at nearly one ton, Jehoshaphat has a type rating of +2.46 and udder composite score at +2.08. His fitness traits are also commendable with a +4.4 PL standing.
Topping out the IPS breed-leading SCR bulls is 99HO6378 Passion at +7.6, achieved through more than 2,000 inseminations. With a limited semen supply, Passion's milk proof is +1487. His three major conformation traits are all plus; type, udder composite along with feet and leg. Passion is a Toystory son from an Excellent-91 classified daughter of Comestar Outside.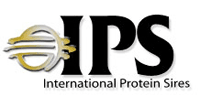 The high impact IPS proven sire lineup is available worldwide through a network of independent distributors and company employees. Located in Rock Springs, Wisconsin, you may learn more about IPS through their website, www.ipssires.com or by calling toll free: 1.800.542.7593
9.20.2012