Drs. John Herrick and Jim Jarrett honored for commitment to veterinary medicine
John Herrick, D.V.M., and Jim Jarrett, D.V.M., were posthumously honored as distinguished inductees to the Cattle Production Veterinarian Hall of Fame (CPVHOF), sponsored by the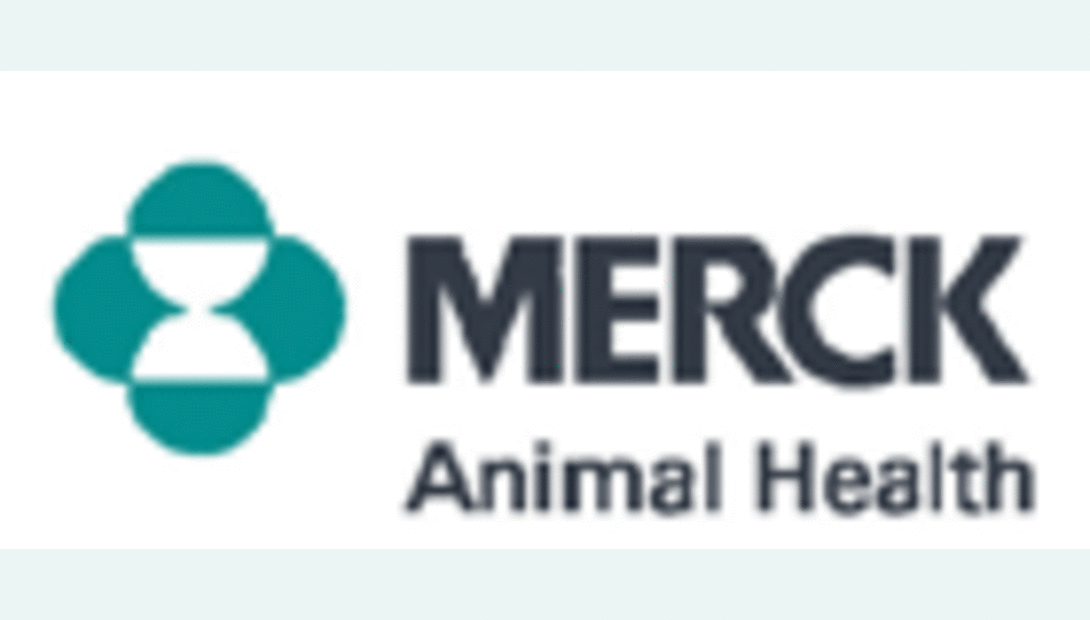 American Association of Bovine Practitioners (AABP), Academy of Veterinary Consultants (AVC), Bovine Veterinarian, Merck Animal Health and Osborn Barr, an agricultural marketing and communications company. Drs. Herrick and Jarrett were honored Sept. 22 at the 45th Annual AABP Conference in Montreal.
"These two men have set an admirable example of leadership and dedication to the cattle industry," said Mark Spire, D.V.M., technical services manager for Merck Animal Health and emcee for the event. "We are honored to recognize them with such a prestigious award."
CPVHOF celebrates the rich traditions of American cattle production veterinary medicine by honoring the extraordinary men and women who have made lasting contributions to their profession. Inductees are true pioneers whose achievements span their entire careers. They are selected by their peers, including members of the AABP and AVC.
Dr. John Herrick, Paradise Valley, Ariz. 2012 Beef Inductee
Dr. Herrick is well-known in the beef industry as the "father of preconditioning." He pioneered the concept of preconditioning programs for weaned calves and is known for his work on brucellosis and mastitis control.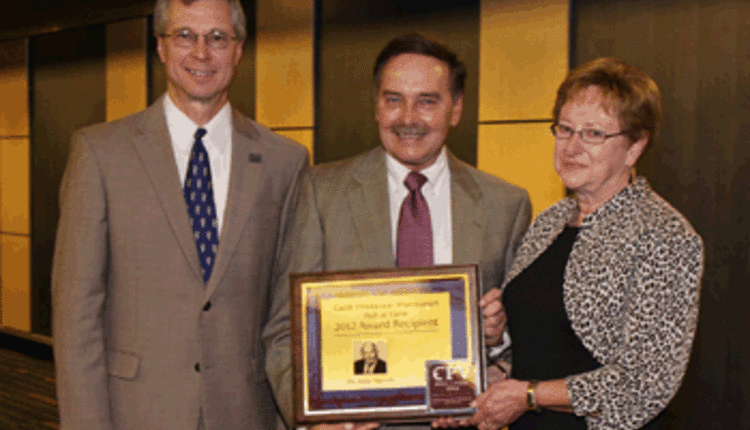 John Herrick, D.V.M., was posthumously inducted into the Cattle Production Veterinarian Hall of Fame. W. Mark Hilton, D.V.M., presented the award to Dr. Herrick's family. Dr. Hilton is pictured (left to right) with Dr. Herrick's son and daughter, Jim Herrick and Joyce Rodenborn.
"A deep passion for cattle production was evident in all of his work," said W. Mark Hilton, D.V.M., clinical professor of food animal production medicine at Purdue University, who presented the award.
Dr. Herrick earned his doctorate of veterinary medicine in 1941 from Iowa State University College of Veterinary Medicine and, for 35 years, served as a professor of Veterinary Clinical Sciences and Extension at the same university.
"Colleagues admired Dr. Herrick for his knowledge of veterinary medicine, great sense of humor and dedication to animal health," said Dr. Hilton. "One colleague said Dr. Herrick was fiercely loyal to veterinary medicine and had a major impact on the veterinary profession by changing the image of one who merely treats sick animals, to that of an integral and key member of livestock production teams."
Dr. Herrick was a past president of the American Veterinary Medical Association (AVMA) and the Iowa Veterinary Medical Association. He also served on the AVMA Continuing Education Advisory Committee. He practiced veterinary medicine until his death in 2007 at age 87.
Dr. Herrick has 14 children, 26 grandchildren and 18 great-grandchildren, who were his pride and joy. His daughter, Joyce Rodenborn, and son, Jim Herrick, accepted the award on Herrick's behalf.
"My father was proud of his profession, of what he did, and all fellow veterinarians. He loved to talk, and one thing he always said was that he hoped his family would be proud of him," said Jim Herrick. "We are very proud."
Dr. Jim Jarrett, Rome, Ga. 2012 Dairy Inductee
Dr. Jarrett was a world-renowned dairy expert, who focused on milk quality, dairy nutrition and reproductive management. He also co-founded the AABP Quality Milk Pre-conference Seminar.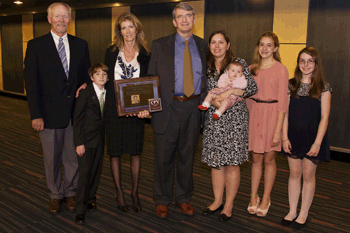 Jim Jarrett, D.V.M., was posthumously inducted into the Cattle Production Veterinarian Hall of Fame. Bob Smith, D.V.M., presented the award to Dr. Jarrett's family. Dr. Smith is pictured (left to right) with Dr. Jarrett's daughter, Joy Jarrett, with her 9-year-old son, Adam Shealy; and, Dr. Jarrett's son, Robert Jarrett, M.D., with his wife, Tina, and daughters: 3-month-old Emilia; 13-year-old Elizabeth; and, 11-year-old Gabrielle.
"He had a holistic approach to disease control and production. He had a definite appreciation for the host, the agent, the environment and management," said Bob Smith, D.V.M., who presented the award and was AABP president during Dr. Jarrett's service as AABP executive vice president. "That appreciation was his cornerstone to success in veterinary medicine."
Dr. Jarrett earned his veterinary medical degree from the University of Georgia College of Veterinary Medicine and started his career in private practice in Rome, Ga. He transitioned to the Georgia Department of Agriculture, where he developed one of the first milk-quality programs in the nation. He then established his own animal-health practice, and for 25 years Dr. Jarrett specialized in dairy health management, mastitis control and reproductive management.
"Fellow veterinarians remember Dr. Jarrett's big smile, strong handshake and love of people. These qualities made it easier for him to take leadership positions in animal health organizations, such as the National Mastitis Council, AVMA and AABP," said Dr. Smith. "Dr. Jarrett was an excellent role model and example for the industry. He loved veterinary politics and lectured on veterinary topics across the globe. When he was not busy, he also enjoyed skiing and spending time with his family."
Dr. Jarrett passed away in 2005 at age 69. Dr. Jarrett's son, Robert, and daughter, Joy, accepted the award on behalf of their family.
"If my dad were here today, I believe he would say: 'Find a job that you love and can turn into a profession; support your family and youth in the industry; find a mate you can live with for the rest of your life; and you will do well,'" said Robert Jarrett, M.D.
Drs. Herrick and Jarrett joined inaugural inductees Harold Amstutz, D.V.M., and Dan Upson, D.V.M., M.S. Ph.D., in the Hall of Fame.
About Merck Animal Health
Today's Merck is a global healthcare leader working to help the world be well. Merck Animal Health, known as MSD Animal Health outside the United States and Canada, is the global animal health business unit of Merck. Merck Animal Health offers veterinarians, farmers, pet owners and governments one of the widest range of veterinary pharmaceuticals, vaccines and health management solutions and services. Merck Animal Health is dedicated to preserving and improving the health, well-being and performance of animals. It invests extensively in dynamic and comprehensive R&D resources and a modern, global supply chain. Merck Animal Health is present in more than 50 countries, while its products are available in some 150 markets. For more information, visit www.merck-animal-health.com.
10.02.2012