HeiferSmart™ products meet the supplemental nutritional needs of dairy heifers.
Purina Animal Nutrition LLC introduces HeiferSmart™, a new line of dairy heifer nutritional supplements.
The HeiferSmart™ portfolio includes the HeiferSmart™ Protein Tub, HeiferSmart™ Booster Tub, and the HeiferSmart™ Mineral. These products have been developed to address the, often overlooked, nutritional needs of heifers when they are transitioned to forage and pasture-based diets.
"Just as when they are calves, dairy heifers continue to be exposed to transitional stresses that impact growth and development," says Bart Wolkerstorfer, young animal marketing manager with Purina Animal Nutrition LLC. "These may include changes in the ration, pen movement, co-mingling stresses with new animals or weather conditions."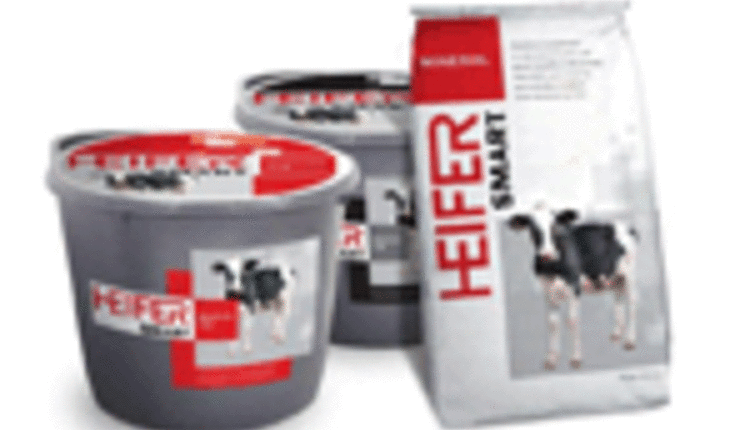 A reliable source of vitamins and minerals made available to heifers can help metabolic functions during times of stress and support overall immune system health and function. Additional benefits of vitamin and mineral supplementation to dairy heifer rations are enhanced reproductive development, earlier cycling, greater fertility and optimal embryo health.
HeiferSmart™ Booster Tubs and Mineral also contain Availa® 4 (organic trace minerals). Numerous research trials indicate key benefits of feeding, Availa® 4, including improved reproductive performance, improved feed efficiency, greater hoof and claw health postpartum, and greater support for immune response to vaccines.
"HeiferSmart™ products are cost-effective nutritional supplements that can help extend healthy calf growth benefits to the growing dairy heifer post-weaning and until she is ready to enter the lactating herd," says Wolkerstorfer. HeiferSmart™ products will be available starting November 5th.
Purina Animal Nutrition has been a dedicated leader in research and product development to help address the changing nutritional needs of dairy calves and heifers. The HeiferSmart™ product portfolio represents the latest focus on extending the benefits of this nutrition to produce a healthy, productive dairy animal.
For more information contact your Purina Animal Nutrition representative or call 1-800-237-9895.
Purina Animal Nutrition LLC
(www.purinamills.com) is a national organization serving producers, animal owners and their families through more than 4,700 local cooperatives, independent dealers and other large retailers across the United States. Driven by an uncompromising commitment to animal excellence, Purina Animal Nutrition is an industry innovator, offering America's leading brands of complete feeds, supplements, premixes, ingredients and specialty technologies for the livestock and lifestyle animal markets. Headquartered in Shoreview, Minn., Purina Animal Nutrition LLC is a wholly owned subsidiary of Land O'Lakes, Inc.
10.02.2012