Since 2009, the EuroGenomics partners VikingGenetics (Denmark/Sweden/Finland), UNCEIA (France), DHV and vit (Germany), CRV (Netherlands/Belgium) and since 2011 Conafe (Spain) co-operate in the field of genomics to further increase the reliability in genomic breeding.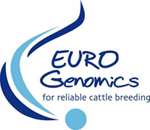 On 26th October 2012, Poland joined EuroGenomics as a full member. EuroGenomics has made an agreement with "Genomika Polska", the new Polish consortium which represents the Polish Federation of Cattle Breeders', the polish AI industry with four AI centers, the National Institute of Animal Production and the research partners of the Universities of Warmia-Mazury-Olsztyn and Wroclaw.
With this integration the Polish breeders will benefit from the large EuroGenomics reference population of more than 25,000 progeny proven bulls, but also from the knowhow in genomic selection of the partners and the methods developed under the network. This will lead to a reliable genomic evaluation in Polish cattle breeding and give the opportunity to the Polish breeders to get at their disposal new tools for the selection and the profitability of their farms.
With the new partner the EuroGenomics network is strengthening the position of cattle breeding driven by breeder's owned enterprises in the world.
For further questions, members of Steering Committee:
UNCEIA: Xavier David, EuroGenomics coordinator: +33 675 38 27 31
CRV: Alfred de Vries: +31 26 38 98 522
DHV: Egbert Feddersen: + 49 228 91 44 751
vit: Reinhard Reents: + 49 423 19 55 140
VikingGenetics: Søren Borchersen: +45 23 60 07 63
Conafe: Juan Pena: +34 68 68 43 175
Genomika Polska: Jaroslav Jedraszczyk: +48 601 920 839
Note: UNCEIA represents Amélis, Créavia, Dynamis, Gènes Diffusion and Midatest.
DHV represents the Holstein breeding industry in Germany.
11.05.2012