Sales of Herd Navigator have been strong since DeLaval introduced the pro-active, on-farm milk analysis tool to Canadian dairy producers five months ago. The company has received orders for 17 units, seven of which are currently operating on dairies in the Manitoba, Ontario and Quebec provinces.
According to DeLaval, the demand for Herd Navigator demonstrates the value advanced herd management solutions can add to today's dairy operations. This technology – developed by DeLaval and FOSS – is designed to help producers improve reproduction and animal welfare, increase milk production and ensure milk quality.
"Herd Navigator gives producers – together with their veterinarians and nutritionists – the ability to 'look inside' each cow," said Muhieddine Labban, Solution Manager of Automatic Milking Systems for DeLaval Inc. "The system automatically extracts and analyzes milk samples, and generates an action list based on the producer's own protocols."
Labban continued: "With Herd Navigator, a producer can manage by exception. They no longer have to treat groups of cows but can direct their attention to the right cow at the right time."
Herd Navigator helps dairy producers make decisions about each cow's health in these key areas: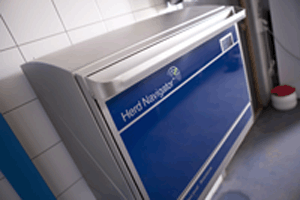 • Reproduction
– Measures the level of progesterone in milk helping to detect more than 95% of heats and helps achieve significant improvements in pregnancy rates.
• Udder health
– Measures LDH (lactate dehydrogenase) helping to detect mastitis in 80 percent of cows up to three days before physical signs are visible.
• Nutrition
– Measures BHB (beta-hydroxybutyrate) helping to diagnose 50 percent more cases of clinical and subclinical ketosis than normally detected. This enables immediate treatment and helps prevent milk losses of up to 600 kg milk per cow per lactation. It also detects urea to help balance feed protein.
DeLaval expects Canadian sales of Herd Navigator to continue trending positively in 2013. The company plans to install Herd Navigator at its first reference farms in the U.S. later this year.
About Herd Navigator
Herd Navigator is compatible with DeLaval VMS (Voluntary Milking System) and DeLaval batch milking parlors, and is today helping dairy producers increase their productivity per cow by improving pregnancy rates and reducing milk losses related to illness. To ensure the system is optimized, DeLaval provides training, support and expertise to producers and their management teams with an in-house advisory group of veterinarians.
For more information, please contact: Muhieddine Labban Solution Manager, Automatic Milking Systems DeLaval Inc. Muhieddine.labban@delaval.com
DeLaval at World Ag Expo 2013
DeLaval will display its solutions and expertise with more than 7,000 sq ft of exhibit space at World Ag Expo. Its booth in the Farm Dairy Credit Center (#6725-30) will focus on consumable solutions like liners, tubes, teat dips and silage inoculants. In two adjacent outdoor buildings (DS93-96) the company will showcase the latest in milking and herd management technology, like its VMS™ (Voluntary Milking System), parlor and rotary automation, and an automated sort gate, calf feeder and heat detection system. DeLaval will also have a booth at the Hilvers Career and Education Center (#8004) to discuss professional opportunities within the organization.
To schedule a one-on-one interview with a DeLaval expert during World Ag Expo, please contact public relations representative Elizabeth Gibson elizabeth.gibson@delaval.com / 847-393-6766).
About DeLaval
DeLaval is a leading supplier of solutions that improve the performance of farms for professional food producers. We support our customers in reducing their environmental footprint while improving food production, profitability and the well-being of the people and animals involved. We offer products, systems and services for all steps of milk production. Our solutions are used by millions of dairy farmers around the globe every day.
DeLaval was founded more than 125 years ago in Sweden, when the visionary Gustaf de Laval patented the cream separator. Today, DeLaval has 4,500 employees and operates in more than 100 markets. DeLaval, alongside Tetra Pak and Sidel, is part of the Tetra Laval Group.
02.13.2013