First annual meeting draws delegates and members from throughout the Midwest to begin establishing the groundwork for the newly formed cooperative.

More than 200 dairy producers and industry members gathered for the inaugural FarmFirst Dairy Cooperative Annual Meeting held Feb. 8-9 in Stevens Point, Wis. Members of the newly formed cooperative discussed future plans for the cooperative, shared industry research and recommendations and laid the framework for the first year of the Midwest's largest milk marketing cooperative.
"The first annual meeting of FarmFirst Dairy Cooperative was a triumph for our members as we came together to share insights and plan for the future," says Dennis Donohue, general manager for FarmFirst Dairy Cooperative. "It's an exciting time for our cooperative and that excitement was shared by our dairy producer members and industry partners in Stevens Point."
The two-day event kicked off with an afternoon of educational opportunities through the FarmFirst Dairy Cooperative Producer Discovery Workshops. The three educational workshops were presented by industry experts to help members best plan for profitability and efficiency.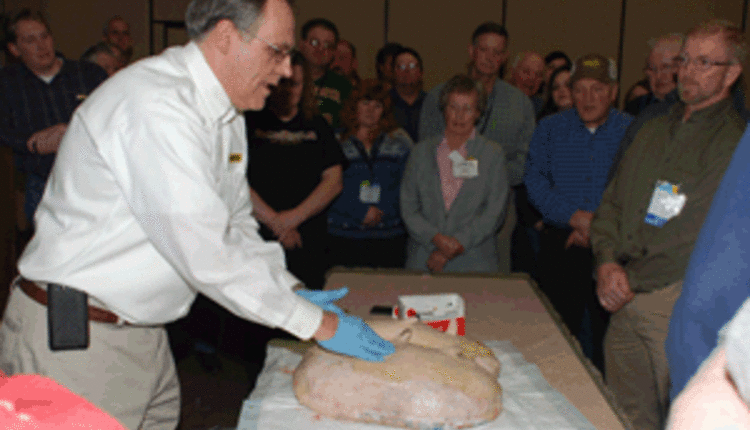 Producer Discovery Workshop speaker Brant Groen demonstrates udder specifics to help achieve milk quality.
Randy Greenfield, Vita Plus Corporation dairy specialist, spoke on feedstuffs and provided alternatives to challenges being faced following the 2012 drought. Brant Groen, director of dairy wellness at Form-A-Feed, Inc., followed with a discussion on udder care management and a dissection of the udder. The afternoon concluded as Mark Stephenson, director of dairy policy at the University of Wisconsin-Madison, discussed the future of the Farm Bill and federal dairy policy.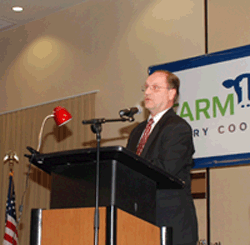 Wisconsin Secretary of Agriculture Ben Brancel addresses the FarmFirst Dairy Cooperative members.
During the evening banquet, Wisconsin Secretary of Agriculture Ben Brancel commended members on the early success of the newly formed cooperative.
"[This group has] done something very unique," he said. "Your cooperative had the wisdom to plan for the future, the strength to build a better tomorrow and the foresight to serve your membership with strength, honesty and integrity. That's pretty unique."
FarmFirst Dairy Cooperative President Peter Kleiman began the cooperative's business meeting on Feb. 9 with an address to the membership.
"Our Board of Directors and staff look forward to partnering and working directly with our industry friends and producers," Kleiman said. "We know that together everyone achieves more and that as a team we have the power to accomplish great things."
Throughout the meeting, 39 scholarship recipients were recognized with nearly $30,000 awarded to cooperative members and their children. Katie Martin from Rubicon, Wis. then gave a special presentation on her experiences in an Africa dairy community – an international opportunity that allowed cooperative members a glimpse into dairy production across the globe.
Members also heard from Steve Etka, coordinator for the Midwest Dairy Coalition, who spoke on the 2012 Farm Bill and the challenges facing Congress. Following the presentations, the delegate members discussed and passed a number of resolutions which form the foundation on policy direction for the organization. Resolutions on federal milk order reform, international trade and standards, consumer awareness, dairy product utilization and promotion, dairy inspections, tax policies, environmental quality, power line siting, farm safety, animal health, right-to-farm laws, guest worker and raw milk were approved by delegate members.
The annual meeting concluded with Dennis Donohue, general manager for FarmFirst Dairy Cooperative.
"The first annual meeting for FarmFirst Dairy Cooperative was a success for our members and the future of our cooperative," he said. "As a group, we're at more tables collectively than we were individually – showing our collective power. Together, we've diversified your cooperative with the addition of divisions and increased our marketing, policy and cooperative abilities. Together, FarmFirst Dairy Cooperative is able to provide more security, safety and opportunity to all of our members."
For additional information on FarmFirst Dairy Cooperative, visit their Facebook page at www.facebook.com/FarmFirstDairyCooperative, go to: www.FarmFirstDairyCooperative.com or call: (608) 244-3373.
Established in 2013, FarmFirst Dairy Cooperative, based in Madison, Wis., is the largest dairy marketing cooperative in the Midwest. Dedicated to its family farm members, the cooperative represents more than 5,000 farms in Wisconsin, Minnesota, South Dakota, Michigan, Iowa, Illinois and Indiana through policy bargaining, dairy marketing services, laboratory testing opportunities and industry promotion. Learn more about FarmFirst Dairy Cooperative by visiting: www.FarmFirstDairyCooperative.com.
02.20.2013