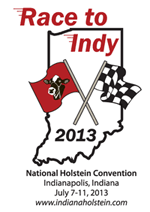 The Indiana Holstein Association is delighted to host the 2013 National Junior Holstein Convention and welcomes youth attendees to enjoy the best of Indiana. Indianapolis is probably best known for its 500-mile race and motor speedway. However, those that venture to take a closer look will realize there are surprises around every turn in Indy. Many of our attendees will be driving this year as 50% of the nation's population is within an eight-hour drive or less of Indianapolis. For those flying, the hotel headquarters is located 14 miles from the Indianapolis International Airport.
You will quickly discover there is plenty to do in Indy as it is one of the most walkable cities in America. If you like sports, it is home to the Colts, Pacers, NCAA Final Four and Indy 500. Attractions include the Indianapolis Motor Speedway, Lucas Oil Stadium, Victory Field (voted best minor league ballpark in the country), Conseco Fieldhouse (home of the WNBA Fever), NCAA Hall of Champions, Indianapolis Zoo and museums. It also features historical monuments that are second only to Washington D.C. with regards to memorials erected to honor those who have served our country. And don't forget the City Center Mall, with over 100 specialty shops. The mall and 12 hotels are connected by skywalks, which means you never have to step outside if you don't want to.
Pre-convention tours promise to be a hit on July 7-8. The tour to the northeast will visit Kuehnert Dairy Farm, Auburn-Cord-Duesenberg Museum, Brand Dairy Farm, K-Z Sportsman RV Factory, Deutsch Kase Haus-Cheese Factory, Yoder Popcorn Farm, Oneeda Holsteins, Darita Holsteins, Maplebranch Farm, and Nor-Bert Farms. A tour to the northwest makes stops at Lucas Oil Stadium, Fair Oaks Farms, Bos Dairy Farm, Benton Co. Wind Farms, Elanco, Springbrook Farms and Carterly Farm.
Kick off the 2013 National Junior Holstein Convention with a trip to the Post Road Recreation Center. Enjoy five acres of fun and catching up with old friends. The center is well known for its amazing Indoor Go Kart Oval Slick Track and newest attraction, the Kamikazi Zipline. Other features you will want to experience include Haunted Lazer Tag, 40-game arcade, 18-hole mini golf, Outdoor Family Street Track and the Fast Karts on the Outdoor Fast Track. Youth will dine on a buffet of classic street foods like pizza, hot wings, BBQ wings, shrimp, chicken strips, jalapeno poppers, mozzarella sticks and soft drinks.
Monday, July 8 guarantees to highlight participants' abilities while competing in the always-popular annual competitions. The Distinguished Junior Member and National Holstein Women's Scholarship interviews will be conducted, along with Dairy Jeopardy, Prepared Public Speaking contest and the Dairy Knowledge Exam. Cap off the night of entertainment with a DJ at the Junior Mixer and state gift exchange. In addition, the Penny War Contest is back and will begin on Monday. All proceeds will benefit the Holstein Foundation. Please join in the fun and start saving your pennies now.
Tuesday, July 9 will showcase the host state. Where else could you imagine a day of fun than trackside near the Indianapolis Motor Speedway? Internationally famous, it is home to both the world's largest and second largest single day sporting events. The Indy Experience will be based at the newest interactive facility, the Dallara IndyCar Factory. You will tour the factory and view the cars being assembled. You will not want to miss your opportunity to ride a race simulator or try the pit stop challenges at the interactive zone. No Indy Experience is complete without a visit to the real deal…the Indianapolis Motor Speedway, track tour and a stop at the Hall of Fame Museum. Complete the day at the convention center for some Hoosier hospitality at the Indy Social featuring a live country band – Wildheart.
Wednesday, July 10 brings the ever-popular Dairy Bowl contest. Juniors can defend their home state in the ultimate showdown of dairy industry knowledge. A taco bar buffet will be served for lunch. That night youth will head to Splash Island Water Park. The tropical-themed park includes three waterslides, an interactive play area for all ages including kiddie slides, water jets, ropes and guns, a gentle winding river, lily pad crossing, two pulsating vortexes, and water basketball court. The park also includes a six lane competition pool with an attached diving well featuring two one-meter springboards. If you choose to stay on-site, a pre-sale meal will be offered before the National Convention Sale takes place in the convention center across from the hotel headquarters.ly
Get up bright and early Thursday, July 11 as the Dairy Bowl Finals will set the tone for the last day of Convention, followed by the National Junior Forum. There, youth will discuss business at-hand and elect new members to the National Junior Advisory Committee. Elections will be conducted using a delegate system. The number of delegates states receive is determined by membership size. States are responsible for selecting their own voting delegates prior to the start of the National Junior Forum. Regions I, III and an At-large position will be up for election.
Youth will then put on their "Sunday best" and attend the National Junior Awards Luncheon where an Italian buffet will be offered. Marine Corporal Josh Bleill, native of Greenfield, Ind., will serve as the guest speaker. While serving in Iraq, Corporal Bleill was severely injured, resulting in the loss of both of his legs. After extensive rehabilitation, Bleill has tackled his new life head-on, and now serves as the Indianapolis Colts Community Spokesperson. Josh travels the country spreading his message of hope, "one step at a time." Recognition will also be given to the contest and scholarship winners, and the National Distinguished Junior Member Finalists will be named. As a final event, youth will have the opportunity to demonstrate their skills at a Convention Talent Show, and then enjoy a farewell dance.
Make your plans now to attend the 2013 National Junior Holstein Convention and "Race to Indy." Visit www.indianaholstein.com for reservation information, updates, and schedule. The ticket order form will be available in mid-March.
2013 National Junior Holstein Convention Schedule
(Tentative)
Sunday, July 7th
6:00 p.m. - 6:30 p.m. Dairy Jeopardy Orientation
8:00 p.m. - 11:00 p.m. Post Road Recreation Center (Pizza/Wings Buffet)
Monday, July 8th
7:30 a.m. - 5:00 p.m. NHWSO Interviews
8:00 a.m. - 5:00 p.m. Distinguished Junior Member Interviews
8:00 a.m. - 6:00 p.m. Dairy Jeopardy Contest
11:30 a.m. - 1:00 p.m. Junior & Adult Luncheon (Deli Buffet)
11:30 a.m. - 1:00 p.m. DJM Luncheon (invitation only)
1:30 p.m. - 7:00 p.m. Prepared Public Speaking Contest
7:00 p.m. - 7:30 p.m. Dairy Knowledge Exam
7:15 p.m. - 7:45 p.m. Dairy Bowl Coaches' Meeting
8:00 p.m. - 11:00 p.m. Junior Mixer & Dance (Pizza)
Tuesday, July 9th – Host Day
8:00 a.m. - 4:30 p.m. Indy Experience (Lunch)
6:00 p.m. - 10:00 p.m. Indy Social Night (Hamburgers & Hot Dogs)
Wednesday, July 10th
8:00 a.m. - 5:00 p.m. Dairy Bowl Contest
12:00 p.m. - 1:00 p.m. Junior & Adult Luncheon (Taco Bar)
5:30 p.m. - 7:30 p.m. Pre-Sale Meal @ Convention Center (Beef Pot Roast & Chicken Buffet)
7:00 p.m. - 10:00 p.m. Junior Mixer @ Splash Island Water Park (Pizza)
7:00 p.m. - 11:00 p.m. National Convention Sale
Thursday, July 11th
8:00 a.m. - 10:00 a.m. Dairy Bowl Finals
10:00 a.m. - 11:30 p.m. National Junior Forum
12:30 p.m. - 4:00 p.m. National Junior Awards Luncheon (Italian Buffet)
6:00 p.m. - 10:00 p.m. Junior Talent Show & Farewell Dance (Snacks)
visit www.indianaholstein.com for more information
Milk It for All It's Worth
As Holstein enthusiasts, we know your cows are your life. Now it is your turn to let everyone know just how special you think they are. You can show off your cows' accomplishments through the various youth awards that Holstein Association USA offers. All national Junior members may submit cows' records for Progressive Breeder, Breeder of an Excellent Cow, Multiple "E", 30,000 Pound, and 150,000 or 200,000 Pound Lifetime Production awards. Don't miss the chance to show the nation the great caliber of cows you have. Winners of this award will be recognized at the Junior Forum during the National Junior Holstein Convention. Applications are due May 1st and forms are available at www.holsteinusa.com/juniors/index.jsp.
Penny Wars Are Back
This year at the National Holstein Convention, the Indiana Juniors will be hosting a Penny Challenge Contest. Each state being represented at the Convention will have a container with their state on it. The goal of each state is to fill their jar with the most pennies. In each of the other states' jars, you need to fill them with silver coins and dollar bills. Pennies count as positive money in your jar, while silver coins and dollars deduct from your jar total.
At the end of the convention the winning state will be awarded with a prize, APenny@ the stuffed cow. APenny@ comes with registration papers and will be in the winning state=s care for a year. APenny@ will return to Convention next year for another round of APenny@ games.
Please join in the fun this year at the National Junior Holstein Convention and show your state pride. Bring as many pennies to support your state and other money for your state rivals. All proceeds will go to the Holstein Foundation to help support the Foundation youth programs that we all benefit from and enjoy each year.
Shining Stars
The most prestigious award for any Holstein youth member is the National Distinguished Junior Member honor. Starting in 1922, the Distinguished Junior Member contest tradition runs deep within the industry. The field for this type of recognition is extremely competitive. The contest requires compiling a detailed record book, which includes a story of the individual's career in the Holstein industry, a listing of Holstein, 4-H, FFA, school and community activities, herd health and breeding program details and responses to essay questions.
Semifinalists receive a trip to attend the National Junior Holstein Convention. There they are interviewed by a group of judges and partake in all Convention activities. A slideshow presentation highlights each of the contestants at the Junior Awards Luncheon. It takes an extreme amount of dedication, passion, hard work, and, most of all, responsibility to become a Distinguished Junior Member. Six finalists are selected for this honor and presented with Holstein Association USA annual renewed membership.
Similar to the Distinguished Junior Member contest, the Young Distinguished Junior Member (YDJM) contest is designed to focus attention on 9 to 16 year olds for their accomplishments working with Holsteins and achievements and leadership in Holstein activities. For applications or questions regarding the contests, visit www.holsteinusa.com/juniors/content/DJM.html.
Pride & Spirit Abound
What better way to show off your state than with a banner displayed at the National Holstein Convention? Banners will be placed prominently so that Convention attendees can view each entry. Banner should depict a story about your state's Junior Holstein Association and its activities and need to be under 3' X 5' in size. Monetary prizes will be presented to the top three entries.
Exhibitors Honored With Memorial
The Judi Collinsworth Outstanding Junior Exhibitor Memorial award was created in honor of Judi Collinsworth. As the Executive Director of Member and Industry Relations, Judi led the way for increasing and securing financial support for Holstein youth programs. She spent endless hours working to improve and expand national Holstein youth programs.
In order to be eligible for the Judi Collinsworth Outstanding Junior Exhibitor Memorial Award, youth must exhibit their own cattle at one of four officially recognized National Junior Holstein Shows. Individuals should have high standards of animal care and welfare, sportsmanship, knowledge of cattle and agriculture and outstanding participation in Holstein youth programs. Interested youth must complete an application form. Winners receive a $250 cash award, and of the individual show award winners is eligible to compete for an overall $500 scholarship.
Buzzing With Knowledge
One of the most popular events, Dairy Bowl, will take place during the National Holstein Convention. In this competitive contest, teams of four answer numerous agricultural-related questions. There are three main components: first, contestants take a 25-question written exam, which is then used to seed the teams for the buzzer rounds of the contest; the second phase consists of asking each team member three questions in rotation; the third phase involves 16 toss-up questions. This is the round that teams find the most challenging and enjoyable. Questions must be answered by activating a signaling device. The culmination of one-on-one double elimination contests eventually determines the champion.
Questions during the rounds cover everything from feeds and feeding, milk quality, herd and udder health, genetics, marketing, dairy foods and general breed facts and history. Each state can enter one junior and senior age team. Juniors must be no older than 16 years old and senior team members under 21 years of age as of January 1st. All team members are eligible to participate three years in both divisions. For rules and sample questions visit www.holsteinfoundation.org/youthprograms/dairybowl.html.
Preserving Holstein Memories
Does your state need a way to showcase the accomplishments and activities of its Junior Holstein organization? If so, then create an entry for the National Junior Scrapbook contest and proudly display your state's achievements at the largest youth Holstein event of the year. After participating in the national contest, display your scrapbook at state events throughout the year or at your state office for others to enjoy.
You have two options: the traditional book entry or the digital entry. Both entries must be prepared by youth members and highlight one year's worth of dairy related activities. The digital entry must have your own audio/visual operating equipment and may include music, animation and video. A panel of judges will evaluate the scrapbooks with the top five states earning recognition in both divisions. Judges will critique the news clippings, photos, organization, neatness, originality, creativity and variety of activities, amongst other things. Entry forms must be postmarked by May 1st. Entries must be in place by 8 a.m. on Monday, July 8th at the National Junior Holstein Convention. For more information please contact Kelli Dunklee at 800.952.5200, ext. 4124 or e-mail kdunklee@holstein.com.
This…Is…Jeopardy!
National Dairy Jeopardy will be offered in three age divisions for youth to compete in at the National Junior Holstein Convention: ages 9-13, 14-17 and 18-21. The initial idea for Dairy Jeopardy came from the wildly popular television show and parallels it in format. Six categories are offered with five questions each. A variety of categories are included for each round. The questions are given different point values, from 10 to 50, which are determined from the difficulty of the question. There are also two hidden bonus questions in each round. Six players compete against each other at one time using a buzzer system.
Each state is allowed to enter one contestant per age division. If there are openings available after the entry deadline, alternates will be accepted on a first-come basis. Contestants are encouraged to watch the television game show or visit www.holsteinfoundation.org/youthprograms/dairyjeopardy.html for helpful tips and sample questions. The entry deadline is April 1st.
Say it Loud & Proud
The National Junior Convention will again include a contest that grows in quality every year. The Prepared Speaking Contest will be held on Monday, July 8th. The contest helps youth develop the skills necessary to become comfortable speaking in front of groups and to articulate a chosen topic within a certain time frame.
The contest is a great way for youth to be unique in expressing themselves in a very formal and professional way. Youth members will have the opportunity to compete in three separate age divisions, 9-13, 14-17 and 18-21. Contestants can speak on any subject relating to the Holstein industry. The Intermediate and Senior divisions will be allowed 6-8 minutes to complete their presentation with the Junior division receiving 3-5 minutes. Judges will score participants on content, organization, expression, voice, stage presence, general effect and response to questions. Entries are due May 1st.
Mission Membership
A contest will be held to promote National Junior Holstein Membership across the country. The state with the highest increase in individual membership will be recognized with a rotating plaque presented during the Juniors Awards Banquet at the National Junior Holstein Convention. The measure of membership increase will be determined by an initial count conducted on January 1st, and final count on June 1st. Membership applications can be downloaded at http://www.holsteinusa.com/pdf/forms_apps/jr_memb_app.pdf.
Displays Provide Education
The 2013 National Folding Display contest will feature two categories - Creative & Scientific. Both categories should include works sited on the back of the entry. Youth can enter both categories. Displays need to be dairy-related, no larger than 4' X 4', and must be able to stand by themselves. No freestanding items or items sitting on the table surface are allowed. The contest will have three age divisions: 9-13, 14-17 and 18-21. Displays will be judged on content, organization, neatness and originality. Cash awards will be presented to the top three in each age division.
All Business
The National Junior Forum will take place on Thursday, July 11th, during the National Junior Holstein Convention. Each year the Junior Advisory Committee (JAC) hosts a Junior Forum where members are encouraged to voice their ideas and views regarding National Holstein programs. All youth members are invited to attend the Forum. By simply attending the meeting, you can have an impact on Junior Holstein activities and awards.
The forum follows a similar format from year to year. A roll call of states is taken in order to determine voting eligibility. Those attending are seated by geographic area in order to facilitate the election process. During the open forum portion of the meeting, individuals and states wishing to make proposals may present their ideas and suggestions. Each proposal is open for discussion. Ideas for new programs and awards typically take form during this discussion.
After the business meeting, elections for the youth serving on the Junior Advisory Committee are held. This year, Areas I, III and an At-Large position will each elect a new youth committee member to a two-year term. The entire country will elect all JAC youth representatives. Youth members to JAC will be elected using a delegate system.
To run for a Junior Advisory Committee position, a candidate must complete a brief application and submit it at the start of Convention. JAC representatives play an instrumental role in determining and structuring youth programs. Those interested in running can contact Kelli Dunklee at 800.952.5200, ext. 4124 or kdunklee@holstein.com.
03.01.2013