New facility proposed to be built in Fall River, Wis. to be second grain shuttle loading facility in Wisconsin.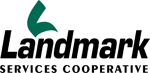 Landmark Services Cooperative announces plans for a new grain shuttle loading facility in Fall River, Wis. Preliminary plans for the new facility proposed to be built in Columbia County were announced at a Town of Fountain Prairie special meeting held in Fountain Prairie, Wis., on March 20.
If approved, the new state-of-the-art grain facility will be the second of its kind to be built in the state of Wisconsin. Grain shuttle loading facilities are created so producers can store and market grain at the best economic time. Rail systems are built into the grain facility so rail cars can enter the bin infrastructure and be loaded directly, saving on shipping and loading costs and reducing carbon emissions associated with traditional shipping – providing a local solution to feed a growing population worldwide.
The first grain shuttle loading facility in Wisconsin is in Evansville, Wis., and is also owned by Landmark Services Cooperative. The Evansville facility was completed in 2002 and has since benefited community members and agricultural producers through increased marketing opportunities and shipping speed, greater community employment, added economic activity and fewer carbon emissions.
As proposed, the Fall River facility will sit on 150 to 250 acres, having the capacity to hold 2.5 to 3.5 million bushels of grain and to market 15 to 25 million bushels of grain annually. The proposed facility would provide local economic benefits including an increased property tax base.
"This exciting project is an opportunity for Landmark to further partner with our communities and to have an even greater global impact through local solutions," says Bob Carlson, chief executive officer of Landmark Services Cooperative.
"Being locally owned by our members, our mission is to help the communities we work with to thrive and our producers to remain profitable," Carlson adds. "The proposed grain shuttle loading facility in Fall River will be helpful in both of those goals – benefiting producers, members and our communities."
Landmark Services Cooperative has taken preliminary steps in planning for the Fall River facility. For the past 18 months Landmark's leadership team has been discussing how the cooperative can provide a local solution with a global reach. After much discussion and due diligence, the leadership team is excited about the possibility of this grain shuttle loading facility.
The cooperative is currently applying for a conditional use permit for building in Fall River. Additional preliminary steps include discussions with community and board members to explore a facility that best meets the local needs of agricultural producers and community members.
"The Landmark team is eager to speak with the community about this new and exciting project," Carlson says. "Our goal is to be a partner to our members and our communities and to provide opportunities for overall community success."
For additional information on the proposed grain shuttle loading facility, contact Cassandra Strommen at 608-235-9404 or cassandra.strommen@landmark.coop.
Landmark Services Cooperative is a member-owned cooperative business dedicated to providing both rural and urban customers the highest quality products and services. For more than 80 years, Landmark has been providing agronomy, energy, animal nutrition, grain, retail and transportation products and services to its more than 15,000 members in South Central Wisconsin and Northern Illinois. Employing nearly 500 people in rural areas and reaching sales in excess of $500 million, Landmark provides the benefits of volume buying and access to state-of-the-art technology to its members while maintaining a hands-on, customer service-oriented approach in each of the communities we serve. For more information, visit www.landmark.coop or call 1-800-236-3276.
03.21.2013