The American Society of Agricultural and Biological Engineers (ASABE)
recently announced that CLAAS has won six AE50 awards for their advances in agricultural engineering. Four awards were presented for innovations in the
CLAAS
hay and forage line - DISCO 9100 C AUTOSWATHER, CLAAS QUADRANT 3300 RC 3X4 SQUARE BALER, CLAAS ROLLANT 455 UNWRAP SILAGE BALER, CLAAS VOLTO 1100 T TEDDER.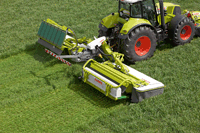 The 29-foot 10-inch DISCO 9100 C AUTOSWATHER is a triple-disc mower conditioner that can form one, two or three windrows. The first of CLAAS' four awards in the hay and forage sector, the DISCO 9100 C AUTOSWATHER uses hydraulics to add or subtract mergers. The DISCO conditioner also carries hydropneumatic suspension to use less fuel and can even decrease crop contamination via soil by 17 percent.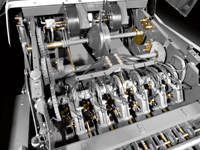 A single-tie knotter, the CLAAS QUADRANT 3300 RC 3X4 SQUARE BALER, is the only large square baler in North America to develop and manufacture its own knotters. Tension is removed from the twine to eliminate fractures and produce high-strength knots during the tying process. An accelerated movement of needles can lead to a 25 percent decrease in the time needed to make a knot and the single-tie system eliminates residue.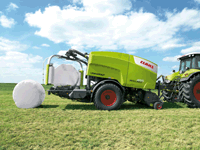 The ROLLANT 455 UNIWRAP SILAGE BALER is designed to increase production and feed quality in a more cost-effective manner. Through automatic technology, the baler tracks bale density, tying, bale transfer and film wrapping of the bale. A 25-blade chopping rotor creates optimum compaction and bale density; the operator can switch from 12 to 13 knives from the comfort of the cab.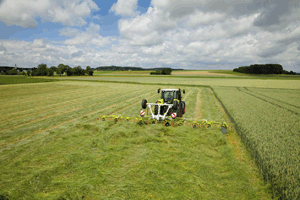 A new VOLTO 1100 T TEDDER capped off the slew of ASABE awards for CLAAS. CLAAS designed the updated tedder with a 35.1-foot width for minimizing passes through the field. The VOLTO tedder comes complete with MAX SPREAD crop flow that enables better handling and mixing processes, even at high speeds. Ease of maintenance is showcased via highly accessible grease points and maintenance-free gearboxes.
CLAAS of America Inc. offers a wide variety of technologically innovative hay tool, baler, self-propelled forage harvester and combine harvester products to provide growers optimum performance in the field. These products are designed by a dedicated engineering staff located at numerous worldwide factories focused on the production and design of harvesting equipment. The design, performance and reliability of this equipment have made CLAAS an international market leader. For more information, visit www.claasofamerica.com.
03.28.2013