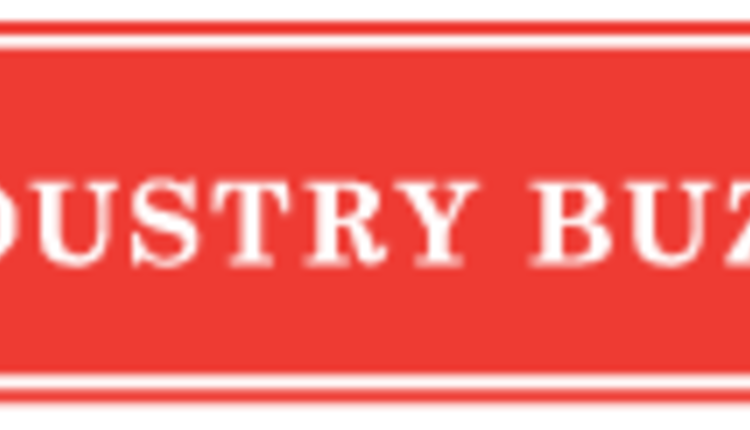 Time with Friends, Quality Cattle Brings Maryland Ayrshire Family Back to All-American
September marks the 50th All-American Dairy Show, and since the first event in 1964, three Pennsylvania and three Maryland farm families have remained fixtures in the show ring and behind the scenes. They are the Yoder family of Pinesedge Farm, Shoemakersville, Berks County; Patrick family of Maple Dell Farm, Woodbine, Md.; Marchezak family of Bentleyville, Washington County; Gable family of Snider Homestead Farm, New Enterprise, Bedford County; Stiles family of Spring Valley Farm, Westminster, Md.; and Shank family of Palmyra Farm, Hagerstown, Md. Each family will be recognized in a feature story as the show approaches.
The All-American Dairy Show features 22 shows in six days in addition to the nation's only all-dairy antiques show. Last year's show featured nearly 2,500 animals and more than 900 exhibitors from across the nation.
The Shank family of Hagerstown, Md., has a long tradition of showing dairy cattle.
William Shank of Rocky Springs Farm started showing purebred Ayrshires in the early 1940's at the Maryland State Show. His son and daughter-in-law, Ralph and Patricia, later purchased nearby Palmyra Farm. Today, the family tradition continues through the third generation, Ralph Jr. and Mary.
The Shank family was among the first to exhibit at the All-American Dairy Show in Harrisburg when its doors opened in 1964.
Growing a Passion for Showing
The Shank children grew up in 4-H and FFA competing in the show ring and in dairy judging contests.
Mary competed in the collegiate judging contest at the All-American as a Virginia Tech student, earning second place team and overall individual reasons wins.
Some of Ralph Jr. and Mary's earliest memories come from the show barns. At just 16 and 14 years old, they were responsible for bedding, milking, feeding and getting the animals prepared to show. Their father kept the farm running at home and only came to Harrisburg on show day.
"Other exhibitors shared their experience and knowledge with us, and I appreciated that," said Mary. "These interactions strengthened bonds of friendships and fostered a respect that went beyond the rows of cattle."
Making a Name
Showing cattle gives dairy farmers the chance to measure their animals against competitors. It's also a marketing tool and a way to promote top cow families.
Mary recalls her father's advice to "add as much value to the cows as you can," because showing was just one way that Palmyra Farm added merit to the genetics of the animals.
Three Palmyra cow families sort to the top as All-American staples: the Ginger, Rosie and Bonnie cow families. Members of the Ginger family have been exhibited at the show for 40 years, and the Rosie offspring continue to be contenders.
The 1970's and 80's were the golden years for Palmyra Farm. Oak Ridge Brvis Bonnie clinched Grand Champion honors in 1978, 1980 and 1982, and Palmyra Dolmen Tammy was Grand Champion in 1977 and Reserve Grand Champion in 1979 and 1980. In 1980, the Shanks had a clean sweep by also winning Junior and Reserve Junior champion honors.
From 1975-1984, Palmyra Farm was awarded Premier Exhibitor eight out of 10 years and Premier Breeder three times. The family also collected a Premier Exhibitor banner in 1990 and have earned blue ribbons from numerous cow classes.
Fostering the Next Generation
Mary and husband Michael Creek are now in partnership at Palmyra Farm with Ralph Jr. and wife Terrie. The fourth generation includes the Creeks' four children, twins Michael and Mark, Evan and Jordan, and the Shanks' Erin and Ryan (along with Ryan's wife Amanda and daughter Kayleigh). Mark and Ryan work on the farm full-time, and the other children are involved in a variety of ways.
They milk 170 Registered Ayrshires and Holsteins. Like the All-American, Palmyra Farm is celebrating 50 years in business. The farm boasts nearly 120 All-American Ayrshire nominations, with more than 44 winning All-American honors.
All-American Memories
Several key events stand out in Mary's memories of the All-American, like the years she bought three-week old twins Michael and Mark and four-month old Evan to the show.
She also vividly recalls the flood of 1975. Show boxes floated in the water. Animals were tied to guard rails on Cameron Street awaiting pick-up by truckers. Large bulls were led through the floodwaters with a three-point hitch and tractor.
"I'll never forget the overwhelming hospitality offered and arrangements made by the show personnel during the dangerous moments of high flooding," Mary said. "The concern for the safety of all exhibitors and their cattle was very much appreciated by everyone."
While she wasn't at the show during its less-intense 2004 flooding, she advised her family before they evacuated the cancelled show, with the 1975 memories on her mind.
Although Mary sees changes in how animals are prepped for show and the improvements in the facilities at the Pennsylvania Farm Show Complex and Expo Center, some things haven't changed through the 50 years.
"There continues to be a wide sampling of all breeds, lots of exhibitors and strong competition," she said.
"The premiums at the All-American have always been top notch," added Mary. "It brings exhibitors and quality animals back the following year. Dairy farmers appreciate attending a show that respects and rewards exhibitors' efforts, especially when high expenses make it challenging."
Reveling in Friendly Competition
While winning is fun, the Shanks say showing cattle isn't as much about the money or the competition as it is about the people. Friends, connections and relationships developed from years of exhibiting side by side are the ties that last much longer than the week spent in the show barns.
"Show day goes way too fast," said Mary, who continues to be a strong presence in the show ring even as the next generation manages the show string.
Mary arrives on show day with a list of friends with whom she wants to reconnect, friends she typically only sees at the All-American.
"It is the friendships, networking and evenings spent sitting by the cattle and catching up that keeps us returning to the show," she said. "Everyone at the show has a common bond, a passion for our breeds, a competitive spirit and respect for each other."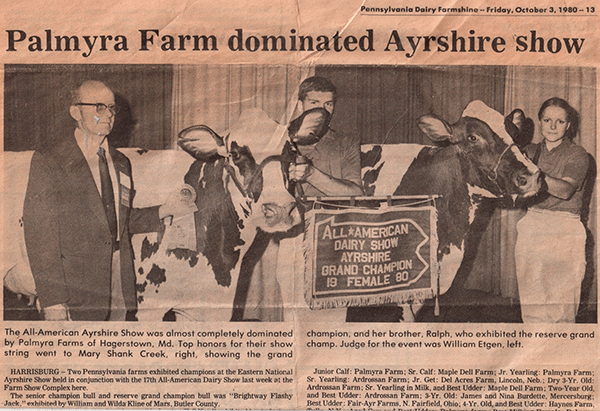 L-R: Mary Creek, Palmyra Farms, Intermediate Champion and Greg Evans, Sunny Acres, Reserve Intermediate Champion, with dairy royalty during the 2009 All-American Dairy Show.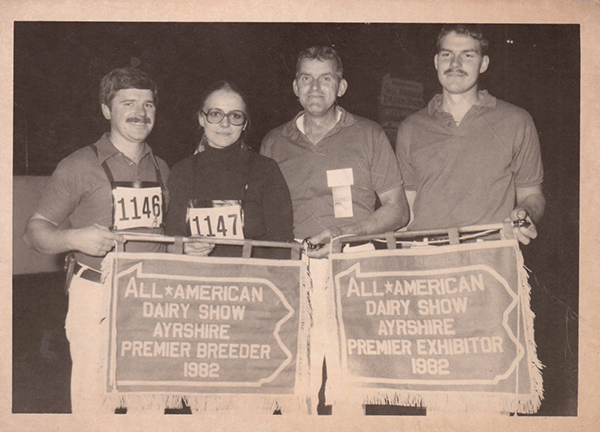 L-R: Mike and Mary Creek, Ralph Shank, Sr. and Ralph Shank, Jr. with their Premier Breeder and Premier Exhibitor awards at the 1982 All-American Dairy Show.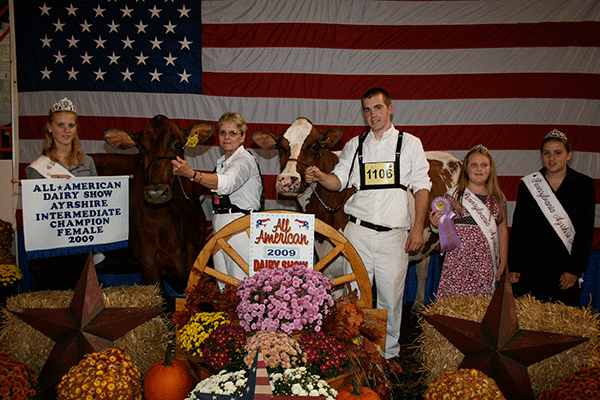 Mary Creek holds Palmyra Farm's Intermediate Champion and Ralph Shank Jr. holds the farm's Reserve Champion in the Ayrshire Show at the 1980 All-American Dairy Show.
Return to Industry Buzz.
7.30.2013