There was a time when nearly every youth showing at a fair, competing in dairy judging or competing in quiz bowl lived and worked on their family farm. Being around the cows was part of the daily routine. As the number of dairies decline, there are fewer youth raised on farms.
This was evident at the recent National Holstein Convention in Iowa. When looking and listening to the young people on stage during the dairy bowl finals, you witnessed excitement and knowledge about our industry. How ironic that most of them aren't on a farm each day.
They come from varied backgrounds and have a deep appreciation for our dairy industry and in some cases, may be more passionate than those born into it.
California's National Winning Junior Dairy Bowl Team: Coach Kirsten Areias, Hayden Costa, Macey Pearson, Hannah Mancebo, Siana Barrett and coach Sarah Zonneveld
When looking at the four-team members of the national winning California junior dairy bowl team, there were three girls and one young man – another sign of the changing demographics. The fifteen-year-old Hayden Costa gained a love of dairy from the parents of his mom's best friend, the Toledos. They operated a dairy in California's Central Valley, but retired 10 years ago. The couple's granddaughter, Macey Pearson, was also on the team. She owns animals and they are housed at a nearby dairy. Macey's mom was a dairy princess and showed cattle in FFA. But, today, their moms (and dads) do not live on dairies. Instead their parents are a USDA dairy inspector, work in the grocery industry and in the ag insurance business.
Siana Barrett lives in the county, but her dad commutes to the Silicon Valley for work. The fourth member, Hannah Mancebo, is the daughter of a high school agriculture teacher. He coached the national winning FFA dairy judging team in 2010.
The leading dairy state also fielded a senior team, all young ladies, in the finals. The team captain, Hannah Van Dyk, was raised on a dairy that her family has since sold. She serves as district Dairy Princess and still owns registered Holsteins.
Bailey Allen and Kiara Giardi were both on previous national winning junior quiz bowl teams. Bailey was introduced to dairy as a 4-Her when she showed animals from a neighbor. Kiara was not raised on a dairy either, but has relatives in the dairy industry.
Team member Francesca (Frankie) Gambonini, is the 6th generation on her family's centennial, 250-cow organic dairy located less than an hour from San Francisco. She served as her district Dairy Princess and her dad competed in national dairy bowl as a youth.
So, while they are not the typical "dairy kids", they are the face of today's dairy youth. From no farm, to a mid-sized farm, traditional to organic, their unique backgrounds bring diversity and strength to our ever-evolving industry. Youth programs, like dairy bowl, expose young people to the dairy industry, who might not have been raised in it. Their exposure can open doors and many will choose careers in agriculture, based on their positive experiences.
To quote their dairy bowl coach, Kirsten Areias, "Having cows in the backyard is not a guarantee of passion. You have to find kids with passion and introduce them to something to be passionate about."
---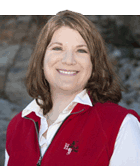 The author is the online media manager and is responsible for the website, webinars and social media. A graduate of Modesto Junior College and Fresno State, she was raised on a California dairy and frequently blogs on youth programs and consumer issues.