Where will I get the best agriculture education? Each year
QS tackles that very topic by ranking the top universities in the world.
There is an overall ranking and reviews on 36 major fields of study. The rankings are based on research impact, academic and employer reputation.
The top three agricultural universities easily separated themselves from the pack with scores in the high 90s. Repeating as the top agricultural college is the University of California-Davis. The campus is located near Sacramento, the state's capital. A major contributor to the high ranking is their well-respected veterinary science program, which ranks number one in the world.
Cornell University moves up one position to the No. 2 spot. This Ivy League school also has a highly regarded veterinary medicine school ranked No. 2 in the world.
In third is Wageningen University, located in Holland. Its course of study addresses sustainability and growing the food supply. It also has a veterinary science program that ranks number 16.
While not a traditional agriculture school, University of California–Berkeley has a forestry program within its College of Natural Resources. Students study the earth's critical ecosystems at this No. 4 school. Plutonium as well as two other elements were discovered by Berkeley professors, making it a leading-edge research and science institution.
With strong vet schools, Purdue and University of Wisconsin-Madison are tied at fifth and sixth for overall ag colleges. Their vet schools rank 30th for Purdue and 24th for Madison.
For a small country, England is home to half of the world's top 10 veterinary medicine universities including Royal Veterinary College, University of Glasgow, University of Cambridge, University of Edinburgh and University of Liverpool. Other top universities in this category include University of Guelph (Canada) in fourth and Utrecht University (France) at fifth. Other than UC-Davis and Cornell, Texas A&M is the only other American college in the world's top 10 for educating these animal care advisers.
As a student, I had the opportunity to explore half of the top six universities on this list. I challenge young people to visit campuses. Many host 4-H and FFA events, such as judging contests or leadership conferences. At these events, students spend time on campus. Even as a junior high student, my school toured Stanford and Berkeley. While I was not intending to study there, it was a great opportunity to see what options were available.
---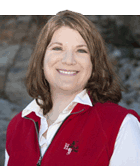 The author is the online media manager and is responsible for the website, webinars and social media. A graduate of Modesto Junior College and Fresno State, she was raised on a California dairy and frequently blogs on youth programs and consumer issues.