This blog was originally posted August 25, 2016
A wise person once told me, "Be careful how you build your fortress, as you can create your own prison." All dairy farmers know how much of our lives center around caring for our farms. We work to grow our herds and improve productivity. Our business model usually involves a farm that is operating 24/7 and 365 days a year.
I came to a realization back when my daughter, Caitlin, was playing high school softball. I called a pal of mine, a plumber, who had a daughter on the team with Caitlin. I asked him if he wanted to catch a ride to watch the girls play in a tournament out of town. He said he was way behind on a couple of plumbing jobs and couldn't go. I told him I was busy at the farm, too, and since he couldn't go that I wouldn't either.
Then I thought about it and called him back. I told him when the girls rolled us into the retirement home, I probably would not be worried that I had missed hauling manure and he wouldn't be worried about how many toilets he hadn't unstopped. Needless to say, we jumped in the truck and cheered our daughters on at the games.
I love to dairy. I love to grow crops on land we've farmed for generations. But I've learned that if I'm not careful to take time off, the farm that I love can become a prison. Even if the week has been busy, I try to take at least a few hours to ride my horse or paddle my kayak.
I encourage my employees and other family members on farm to do the same . . . take a vacation day, go fishing, camping, or take any day we are not cropping to do whatever hobby their enjoy. They come back to work with a smile and a story to tell about their adventure.
Remember, when we kayak around the corner of life into our final years, will we wish we had milked one more cow or will we wish we had seen our child or grandchild pitch one more strikeout?


Find your passion off farm and you will arrive on farm with a smile and a story to share. As for me, the cows have been checked on and now I am headed to the river with the kayak.


---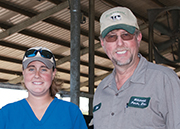 Mark and Caitlin Rodgers are dairy farmers in Dearing, Georgia. Their "Daddy and Daughter Dairy Together" column will appear every other Thursday on HD Notebook. The Rodgers have a 400-cow dairy that averages 32,000 pounds of milk. Follow their family farm on Facebook at Hillcrest Farms Inc.