In a ceremonial fly-over, the blasting engine of an F/A-18F Super Hornet took to the skies to help celebrate the opening of the world's largest annual agricultural expo. Pleasant, sunny, moderate temperatures in the 60's and 70's were seen today and are expected for the rest of the three-day show. Attendee filled the show's streets and exhibition halls - including the popular Farm Credit Dairy Center. If you're traveling to the show, please stop by the Hoard's Dairyman booth. We're handing out free one-month subscriptions to our online magazine! Our booth is located just inside the center front doors of the Farm Credit Dairy Center.
Events we found ourselves at on opening day included the first-ever meeting of the National Dairy Producers Organization (NDPO). The organization is holding forums in a large tent just outside the Dairy Center for the duration of the show to promote their organization's objective of improving producer profitability.
At noon, we attended the World Ag Expo Forage Challenge awards luncheon. Forage growers from across the West were honored for their superior forage results. The competition awarded a total of $18,000 in cash prizes. Thirty-seven entries vied for honors in three categories: alfalfa hay, non-BMR corn silage, and BMR corn silage.
Alfalfa Hay Winners:

1st: Lazy 2K Livestock, Kellie Hinman, Wheatland, Wyo.
2nd: Hardrock Farms, David Hinman, Wheatland, Wyo.
3rd: Roberti Ranch, David Roberti, Loyalton, Calif.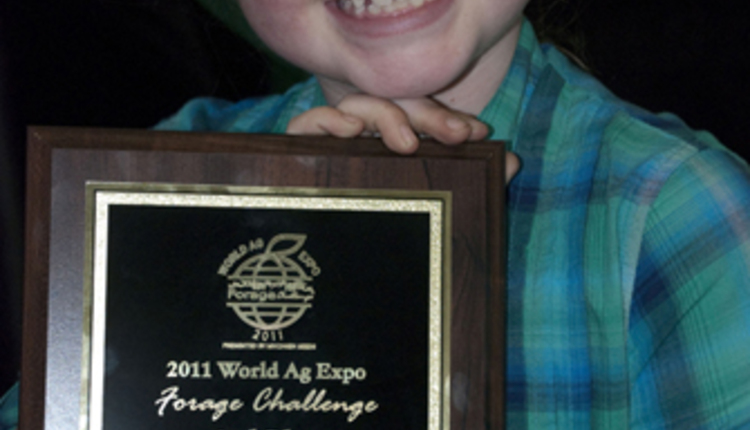 Corn Silage Winners:

1st: Royal Turf Farms, Kelly Callahan, Royal City, Wash.
2nd: Weststeyn Dairy, Bert Weststeyn, Willows, Calif.
3rd: Rancho Teresita Dairy, Case Kasbergen, Tulare, Calif.
Brown Mid-Rib (BMR) Corn Silage Winners:

1st: Tony Borba Dairy, Tony Borba, Jr., Escalon, Calif.
2nd: Barreto and Silveira, Jared Silveira, Hanford, Calif.
3rd: Rynsburger Dairy, John Martin, Strathmore, Calif.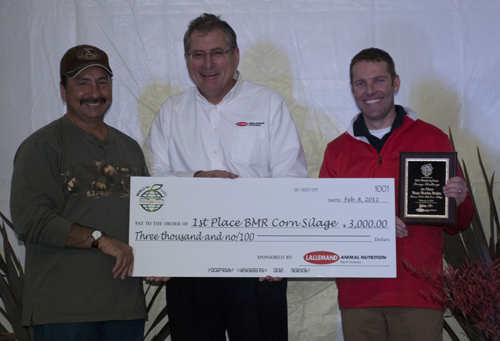 In the afternoon, we spent time visiting with show-goers from across the country and West. But, by far the favorite visitors we found were these guys: