At the American Guernsey Association's national convention held in June, outstanding cows and herds received awards for their achievements from the previous year. Jason Yurs, who has served as the Hoard's Dairyman farm manager for 17 years, attended the convention in Dubuque, Iowa, and was present to accept some awards on behalf of the farm.
Dairyman Daunte Jo Jo won the New England Trophy and the California Protein Award. The New England Trophy is given to the cow completing the highest 305-day actual record for milk, while the California Protein Award recognizes the highest 305-day protein record for the year.
At six years old, Jo Jo made 35,470 pounds of milk, 1,167 pounds of fat (3.3 percent), and 1,224 pounds of protein (3.5 percent) in a 305 day lactation on three times a day milking.
When her lactation is carried out to 365 days, she made 41,000 pounds of milk and 1,400 pounds of protein, which placed her on top of the breed in both of those categories as well.
Jo Jo is a Very Good-84 Oak Knob Legacy Daunte daughter out of a Very Good Challenge cow with records of 33,000 pounds of milk.
The Hoard's Dairyman Farm earned other recognitions at the convention as well. The Hoard's Guernseys are ranked second among commercial herds, which is a ranking based on Energy Corrected Milk levels. It is also the top herd in the nation for milk, fat, and protein among herds with 100 or more Guernseys.
Among all herds, Hoard's Dairyman ranks fourth for milk production, seventh for fat production, and third for protein. In addition, the farm is also home to the most Component Queens in 2017 with 36.
Since the farm's founding by W.D. Hoard in 1899, Guernseys have called the Hoard's Dairyman Farm home. It is the longest continuously registered Guernsey herd in North America.
---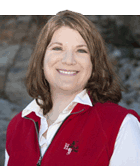 The author is the online media manager and is responsible for the website, webinars, and social media. A graduate of Modesto Junior College and Fresno State, she was raised on a California dairy and frequently blogs on youth programs and consumer issues.
---
Join us on August 13, 2018, for our webinar "What's different about Jerseys . . . and what's not" presented by Mike Hutjens, University of Illinois
Sponsored by Custom Dairy Performance / KTG North America
Hutjens will discuss guidelines and opportunities for Jersey herds based on the results of a thorough study of the top cheese yielding Jersey herds in the country. The impact of herd size, milk yield, use of BST, and mixed breed versus Jersey-only farms will be evaluated.