It can be a struggle to continue to be on the top of your game when margins are tight and labor is challenging. But dairy producers persevere and avoid cutting corners if animal care or milk quality will suffer. We all need a pat on the back once in a while for a job well-done.
The National Mastitis Council strives to do just that while encouraging the industry to continually improve milk quality by awarding the National Dairy Quality Awards (NDQA). Beginning today, the organization is seeking nominations from industry professionals for the awards. The application process not only contains details on the herd's somatic cell count (SCC) levels, but also milking protocols and treatments. Items listed on the application include number of cows, SCC and Standard Plate Count (SPC) measurements, fat and protein averages, cases of clinical mastitis, rolling herd average, and cull cow numbers in the last 12 months. After the initial review, the top candidates will be asked to supply additional protocol information.
The nominators are typically veterinarians, nutritionists, or field staff from milk cooperatives and processors. Full details and the application can be found at www.nmconline.org/ndqa.
Over 40 herds will be recognized for their efforts in producing top quality milk as Platinum, Gold, and Silver winners. The Platinum producers are invited to the annual business meeting of the National Mastitis Council where they will be introduced and receive their awards. This year's event will be in Orlando, Fla., January 28 to 31, 2020.
The major sponsor is Boehringer Ingelheim with contributing sponsorships from GEA, IBA/Ecolab, Conewango, milc group, National Mastitis Council, and Hoard's Dairyman.
The nominations open July 1 and close August 30, 2019.
---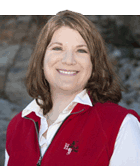 The author is the online media manager and is responsible for the website, webinars, and social media. A graduate of Modesto Junior College and Fresno State, she was raised on a California dairy and frequently blogs on youth programs and consumer issues.