Last week, my home community lost someone very special. He was a cornerstone of the agriculture community there, and his presence was unforgettable.
When my family and our 4-H club heard the news that he was sick, we weren't sure what to do. This individual had hauled cattle for us for years and spent a lot of time bringing show calves to and from various fairgrounds, just because he liked being able to support 4-H and his community. We turned to something that has become a staple throughout this past year
–
homemade thank you cards.
For the first time in nearly a year, members of our 4-H family were together, physically distanced but in one place, ready to thank someone for the difference he had made in all of our lives.
It is easy to forget how completely our lives are shaped by the people we surround ourselves with. I had never really considered what my life would have been like if I hadn't had the privilege of knowing the man who hauled our cows. Thinking back, he was a great representation of the character traits that many people fondly associate with agriculture. He was kind, patient (if a bit stubborn), and always there to support his community. It only seemed appropriate that the first time our 4-H group was able to safely gather this year was for the purpose of honoring him and the difference he made.
I've noticed an uptick in thank you cards this past year. Last spring, we saw them pop up in the mailboxes of essential workers, and they continued to persist as people came to realize how many other people were doing essential work every day, often unnoticed.
There are a lot of things about the pandemic that I am constantly hoping will disappear: the social distancing, the masks, and the inability to hold the large gatherings that college is normally made up of. But one of the things that I hope stays is noticing the unseen people.
It happens more and more every day. The people that make the little mundane things that we used to do without thinking –
like going to the county fair with a few heifers or buying a jug of milk in the grocery store
¾
are finally hearing how vital their work has been, while so many other people had the privilege of staying home during the pandemic. Family members who used to get sick of seeing each other all the time are realizing just how valuable the time they have together truly is.
I hope that we keep this awareness about the impact individuals have on our lives and that we are more cognizant of the effect we have on others. Our lives are made up of and forever changed by people. It is a fact that is easily forgotten or neglected, but one that should always be in the back of our minds.
The pile of cards we created by the end of the day was spectacular. Made by kids of all ages, there were stickers, glitter, and puns on every page. It wasn't professional by any means, but I like to think that it brought a smile to the faces of Jim's family members to know how important he was to our 4-H family. Our memories of him will bring us joy for years to come.
---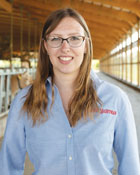 Abbie Cox grew up in Cato, N.Y., on a first-generation dairy farm and currently attends Cornell University as a member of the class of 2021, majoring in animal science with a minor in education and a focus in dairy. On campus, she is involved with the Cornell University Dairy Science Club, Sigma Alpha, Collegiate Farm Bureau, and is a Peer Adviser with CALS Student Services. Cox has interned with the MILC group, the Animal Agriculture Alliance, and was the 2020
Hoard's Dairyman
summer editorial intern.