At World Dairy Expo, Steve Larson wears many hats, with his professional responsibilities, volunteer tasks, and as an honoree.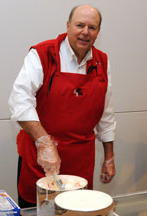 As the managing editor at
Hoard's Dairyman
, his schedule was full with meetings and events. At one key event, the commercial exhibitor party, hosted annually by Hoard's Dairyman, Steve was scooping ice cream, along with several other members of the Hoard's team to over 800 guests.
Steve also serves on World Dairy Expo's board of directors. The board provides new ideas and feedback to the World Dairy Expo staff to ensure the best show possible. He began his term last year.
And 2011 was a special Expo for Steve Larson, as he was honored by National Dairy Shrine as Guest of Honor. The award presentation was given by Holstein Association USA's CEO John Meyer.

You can listen to Chuck Zimmerman's World Dairy Diary interview with Steve here.
Steve shares his thoughts on World Dairy Expo, National Dairy Shrine, and new developments at
Hoard's Dairyman
.