With a deadline of February 15, 2012, agricultural water users are required to register their water withdrawals with NYSDEC. In New York, this affects farmers withdrawing an average of 100,000 gallons or more of water per day in any 30-day period during the previous year from any combination of groundwater and surface water sources. The reporting fee is waived for agricultural uses
As noted in the PRO-DAIRY Alert and Action Statement, all other farms consuming water for agricultural purposes under this threshold are exempt from reporting. These farms, though, may choose to report use. The initial registration and annual reporting will essentially grandfather a farm's water use. In most situations, a permit will not be required in the future. PRO-DAIRY assumes that permit requirements will be more complex than registering now to protect future water use.
Despite New York's plentiful water supply, Governor Cuomo signed this law into effect August 15, 2011. Usage reporting will provide the NYSDCE with information on how to manage the state's water supply, primarily in anticipation of increased water use for hydrofracking activity.
PRO-DAIRY suggest two categories of farms consider reporting:
1. Those currently using more than 100,000 gallons per day
AND
2. Those who may consume more than this in the future and hope to avoid needing a permit when they begin using water above this threshold
It appears that as long as water withdrawals are agriculturally related and reported annually, incremental growth will not require a permit for existing operations.
On-farm, it can be difficult to track water use. Until a spreadsheet is completed for the 2013 reporting cycle, a farm can use the table below, selecting the scenario that best represents its operation. The PRO-DAIRY Alert provides a more comprehensive guide to using this table.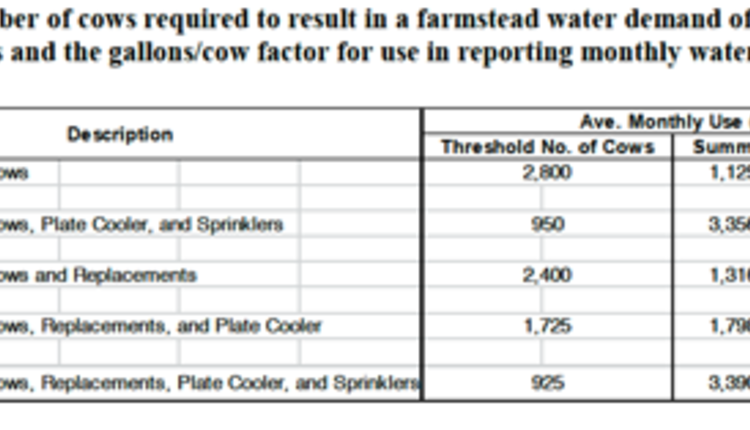 Additional information, including the PRO-DAIRY Alert and reporting form guidance, can be found by
clicking here
. The DEC
form for reporting
can be submitted online or by mail.