Despite slower economic growth overall in the U.S., the agricultural sector is finally on the upswing. Real GDP (gross domestic product) rose 1.9 percent in 2013, down from the 2.8 percent growth rate that was experienced in 2012.
After a stagnant year in 2012 with a mere 0.3 percent growth in output, agricultural outputs grew 16.4 percent after inflation last year. The strong growth in 2013 is primarily attributed to farming, as it reflects a weak 2012 that was affected by a severe Midwest drought. This value, determined by the Bureau of Economic Analysis includes data from agriculture, forestry, fishing and hunting sectors.
The closest sectors to this impressive GDP growth were information technology and manufacturing at 3.2 percent and 3.1 percent, respectively.
In 2013, the gross output for these four sectors combined was $512.7 billion, up from $445.5 billion in 2012. Of the 2012 total, farms contributed $396.2 billion, while the forestry, fishing and related activities contributed eight times less at $49.3 billion.
In spite of agriculture being the best part of the U.S. economy last year, it is one of its smallest pieces, accounting for 1.6 percent of the country's overall output in 2013. Yet, that was one of its largest shares in recent years, up from a low of 0.9 percent in 2006.
In the map below, percent change in GDP is shown by state. North Dakota led the way gaining 9.7 percent. The state benefited from its rising production of shale oil and was further aided by the fact that its agricultural sector amounts to 12.9 percent of the state's economy. The only state with a larger agricultural contribution is South Dakota at 13.7 percent.
According to the Bureau of Economic Analysis, the top 10 states for agricultural sector growth were Wyoming, 23.4 percent; New York, 23.3 percent; Connecticut, 22.1 percent; Hawaii, 22 percent; Maryland, 21.1 percent; New Jersey, 20.7 percent; Ohio, 20.7 percent, Vermont, 20.4 percent; New Mexico, 20.2 percent and Michigan, 20.1 percent.
On a value of agricultural output basis, the nation's largest dairy states, California and Wisconsin, bookend the top 10 at $46.7 billion and $7.7 billion, respectively.
Overall, nondurable-goods manufacturing; real estate and rental and leasing; agriculture, forestry, fishing, and hunting; and health care and social assistance were the leading contributors to the economic growth.
---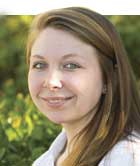 The author is an associate editor and an animal science graduate of Cornell University. Smith covers feeding, milk quality and heads up the World Dairy Expo Supplement. She grew up on a Medina, N.Y., dairy, and interned at a 1,700-cow western New York dairy, a large New York calf and heifer farm, and studied in New Zealand for one semester.