The Cooperative Network, a federation of cooperatives in Minnesota and Wisconsin, held their annual dairy policy and leadership conference yesterday and today in Rochester, Minn. On Tuesday, a panel of four Dairy Industry Advisory Committee members discussed some of the thoughts and reasons behind the 23 recommendations they presented in early March.
Generally, the panel said they sympathized with the restrictions the Secretary of Agriculture needed to work under. Because of bureaucracy and the federal budget, it is rather difficult for Secretary Vilsack to make swift changes to any one program.
In the afternoon, a Capitol Hill staffer and dairy lobbyist spelled out that while many of the recommendations from DIAC are very good, some problems remain. First, the House Agriculture Committee has jurisdiction over only some of the recommendations. Second, for those recommendations under the committee's purview, this year's federal budget suggestions will make any change very difficult.
The conference will take up analysis of the Foundation for the Future program and hear from local legislators today.
Yesterday morning, the first presentation came from a staff writer at the Federal Reserve Bank of Minneapolis. Seeing data and survey results for the 9th district (headquartered in Minneapolis, but including Mont., N.D., S.D., M.N., northern Wis., and the upper peninsula of Mich.), we were struck by two regional surveys on optimism.
The first was the yearly survey of business leaders optimism versus pessimism. As you can see, the lines mirror each other, and optimism has shot up between 2010 and 2011.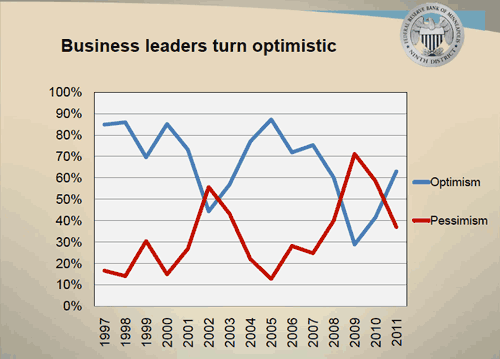 When thinking locally, however, businesses seem to have more confidence than in our national economy. The second graph showed that nearly everyone has confidence in his or her firm doing well. But, as the thinking becomes more big picture – into local state and national economies – businesses were less confident in the next twelve months.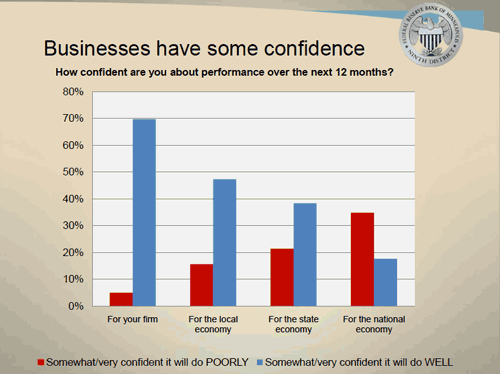 For the
full presentation
including both of these graphs click the link. Or visit minneapolisfed.org for even more information.
In line with the optimism is the outlook for farm income by agricultural lenders. Coupled with higher land values and rent in the 4th quarter of 2010,
things look much better than one year ago
.
Leaders here think we have turned a corner economically in the agricultural sector. Can we do the same on the policy side? The optimism graph is still being tabulated.