Tipton Will Retire at the End of 2016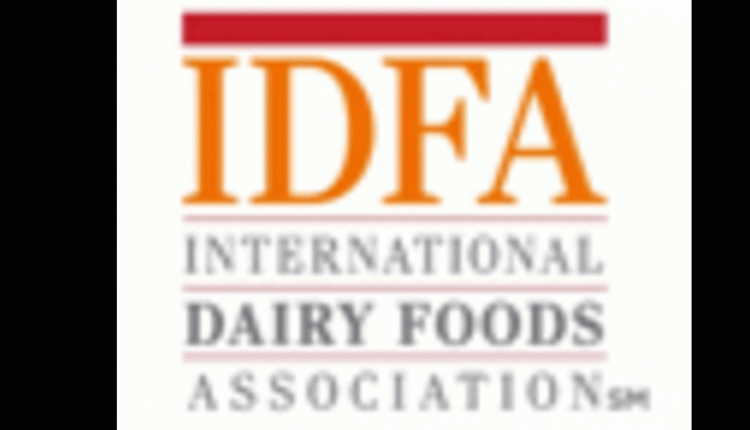 Connie Tipton, the president and CEO of the International Dairy Foods Association (IDFA) and longtime voice of dairy foods companies in Washington, D.C., announced today that she will retire at the end of this year. Tipton, who has led the association since 2004, made the announcement before 1,000 dairy executives and other industry stakeholders at the annual Dairy Forum being held this week at the Arizona Biltmore in Phoenix.
"I have decided to retire at the end of 2016 after 35 fulfilling years representing the dairy foods industry," Tipton said. "I have had a wonderful career working with this industry and appreciate all of the opportunities I have been given, the friends I have made and the fun I have had."
Tipton joined the staff of the Milk Industry Foundation and the International Ice Cream Association in May of 1981, before IDFA existed. That's where she met her late husband, Tip Tipton, CEO of the associations from 1988 to 2003, and they were married in 1983. Together, they reached many milestones and led significant changes in the industry, including the launch of the Capitol Hill Ice Cream Party in 1982 and the first International Sweetener Colloquium and Dairy Forum, also launched in the 1980s, to bring differing points of view together on policy issues.
In 1990, they formed IDFA as the umbrella organization for the Milk Industry Foundation, the International Ice Cream Association and the National Cheese Institute, and successfully pushed for passage of legislation in the 1990 Farm Bill that established the Milk Processor Education Program (MilkPEP).
After noting the overlapping tenures that created a 50-plus year "Tipton dynasty" in dairy, Tipton said, "It's certainly time for a change."
A transition committee of six executives from IDFA member companies will oversee the process for selecting the association's next leader. Both internal and external candidates will be considered, Tipton said. Jeff Kaneb, executive vice president at HP Hood LLC, will chair the committee. Other committee members are Ed Mullins, executive vice president and CEO, Prairie Farms Dairy , Inc.; Mike Reidy, senior vice president – corporate affairs, Leprino Foods Company and chairman of IDFA; Patricia Stroup, vice president and chief procurement officer, Nestle USA, Inc.; Gregg Tanner, CEO of Dean Foods Company; and Mike Wells, president and CEO of Wells Enterprises, Inc.
Achievements and Accolades
Since joining the dairy associations in 1981, Connie Tipton has managed activities in virtually every area, including legislative and international affairs, economic policy analysis, communications and public relations, marketing programs, education and training, trade shows and office management. She also was involved in strategy, policy and budgeting for the overall management of the organizations.
Named vice president in 1989, Tipton was promoted to senior vice president in 1994 and to senior group vice president in 1999. She was promoted to executive vice president in January 2003 and took over as IDFA's president and CEO the following year.
She also has served on numerous committees and boards in Washington, D.C., related to agriculture and trade policy with special emphasis on dairy and sugar policies. In addition, she is a member of the U.S. Chamber of Commerce Committee of 100 and serves on the boards of the U.S. Capitol Historical Society, Sewall-Belmont House, the Capitol Hill Day School and the Bryce Harlow Foundation, a group that provides scholarships and leadership in professional advocacy.
Throughout her career, Tipton has been recognized and honored for achievements in the dairy foods industry and her community. In 2015, she was awarded the George Washington Spirit Award, which celebrates individuals who demonstrate outstanding leadership qualities, for her contributions to her profession and community. In 2014, the Bryce Harlow Foundation honored Tipton by selecting her to receive its Business-Government Relations Award. In 2009, Connie was named Association Executive of the Year by Association Trends magazine, and in 2002, she was identified by two Capitol Hill publications as one of the top trade association lobbyists in Washington, D.C.
Originally from Ohio, Tipton studied journalism at Ohio State University before moving to Capitol Hill, where she has lived for more than 40 years.
Return to Industry Buzz.
1.27.2016