ChampionUSA announced today the availability of new JustiFLY Feedthrough in a convenient 360-gram (12-ounce) add-pack for use with free choice minerals to control flies on pasture and confinement cattle. The economically priced 360-gram add-pack treats one 50-lb. bag of free choice mineral and is available from Durvet members, Nutra Blend, Consumers-Supply, International Nutrition and several major feed supply centers.
JustiFLY Feedthrough is an insect growth regulator (IGR) larvicide available for use on-farm that effectively treats horn flies as well as disease-caring face flies, biting stable fly and nuisance houseflies. "Beef and dairy producers usually fight more than just horn flies," says Steve McKinley, D.V.M, Ph.D, AgLand Consulting, "however, some feedthrough products only control horn flies while disease-carrying and nuisance flies continue to impact production and employees. This new pasture-approved IGR is EPA-approved for use in lactating dairy cows and calves and has no milk disposal issues, resistance problems or withdrawal period."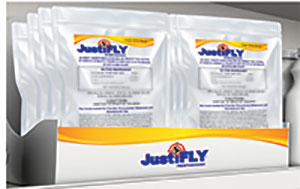 New JustiFLY Feedthrough add-pack is priced to allow beef and dairy producers cost-effective fly control by stopping the larvae from developing once in contact with treated manure. "The new add-pack allows producers full-season fly control while utilizing their own specific mineral choice. There's no longer a need to change minerals to economically include fly control. This is something producers have been asking for a long time," Dr. McKinley adds.
"We see this product as a perfect fit where producers are fighting horn flies as well as raising cattle/calves close to buildings where horn flies and nuisance flies are a problem," Dr. McKinley says. "It is also ideal for pastures and calf hutches where knocking down horn fly and stable fly populations is critical to animal comfort, weight gains and feed conversion."
Ask your animal health products supplier today for new JustiFLY Feedthrough add-packs or contact ChampionUSA at 954-573-8090 today for the nearest supplier.
Return to Industry Buzz.
3.8.2016