A new buzz circulates the goat industry; in particular its dairy production in Canada.
In 2014, ½ million hectolitres of goat milk were produced nationally (74% of that milk coming from Ontario, 21% coming from Quebec). With the demand for goat dairy products continuing to rise year over year, a great opportunity exists for dairy producers to enter (or expand) with incremental consumer demand.
This opportunity was showcased at CDX 2015. The Ontario Dairy Goat Co-Operative demonstrated a live goat milking parlour for attendees, to a great reception. Building on this success, the Canadian Dairy XPO will expand the feature to cover the complete value chain from milk harvest to understanding consumer demand and preferences related to the commodity. Each of the companies and organizations featured in the milking goat category at CDX complement each other and will come together to inform and educate CDX attendees this April.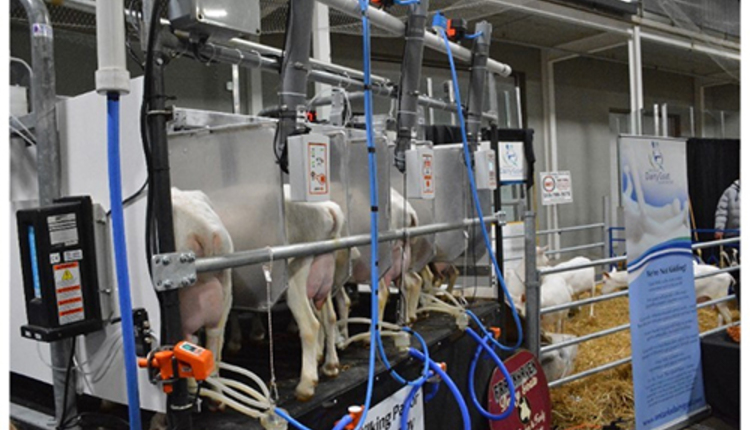 The milking goat demo at CDX 2015, put on by the Ontario Dairy Goat Co-Operative, was a great success and attracted many interested producers, perhaps thinking about succession planning. ODGC are looking to expand on this demo for CDX 2016.
Milking Goat Technology Demo
Dairy goat farms can have anywhere from a small herd (less than 200 goats) up to larger operations with up to 1,000 goats. The Ontario Dairy Goat Co-operative (ODGC) states that production levels of an average goat are between 600 to 1000 liters of milk per year.
ODGC believes the Ontario dairy goat industry is in a position for significant strategic growth and after a successful 2015 at CDX will return for 2016 with a live goat milking demonstration in the TMR & Forage Superstore. ODGC General Manager Keith Cummings said, "CDX 2016 provides ODGC the opportunity to showcase our live milking demonstration in co-operation with our industry partners – equipment suppliers and processors. The narrated live milking demonstration concept is easily understood and eagerly absorbed by potential new producers because it's hands on and interactive. ODGC chose to exhibit at the 2016 CDX primarily because of the success of our participation at CDX in 2015. Our presence at CDX and the immense volume of attendees in 2015 provided ODGC with unequalled exposure, as well as the opportunity to encourage potential new producers to become dairy goat farmers."
Equipment Innovation
Potential new producers as well as existing dairy goat producers will be pleased with the increased selection of equipment and innovation on display at CDX 2016.
"We are witnessing a progression in the dairy goat industry in Canada. Herd sizes are increasing to meet the demand for goat milk" states Kevin Weaver, Regional Sales Manager, Greenoak Dairy Equipment. Greenoak will be displaying Dairymaster's Swiftflo Goat Rotary - the world's most advanced automated systems for milking goats. As dairy goat farms are changing in size, equipment needs to modify to meet the demands. Weaver adds, "Traditionally increasing the herd size means long hours spent milking and increased workload for the operator." To combat this, Dairymaster recognised these challenges and applied their expertise and innovative technologies to design an automated milker suitable for herd sizes of 500 goats and above. With a robotic carriage, each milking point can milk up to 10 goats per hour. Paul Kelly, Key Account Manager, Dairymaster USA believes their product's steel and concrete construction is unique innovation in the marketplace.
Also bringing equipment to CDX is S.A. Christensen & Co. (S.A.C.). Originating in Denmark and Holland, S.A.C. has been milking cows, sheep and goats since 1938 and offers efficient, innovative milking systems and management systems. S.A.C. believes in efficient milking and recognizes that nothing improves efficiency as much as a well designed milking parlour. They believe that the milking process itself is extremely short in duration and the manual preparation of each animal constitutes a large proportion of the overall milking process. S.A.C. believes in producing a milking parlour that functions rapidly and efficiently. Niels Erik Bendtsen, S.A.C. CSO, sees CDX 2016 as a great place to exhibit the company's new innovation, "We look forward to meeting the future visionary farmers in Canada."
Commodity Processing
Both dairy goat producers and processors will continue to see new demand into the future, says Jennifer Haley, Executive Director of Ontario Goat, "Over the next ten years the goat industry will have many opportunities to grow and expand. Increased demand is being driven by the growing goat cheese market, as well as health conscious consumers wanting to incorporate goat dairy products into their daily diets."
Ontario Goat is participating in CDX 2016 both with an exhibit and in the Purina Dairy Classroom where they have sponsored Bruce Vandenberg to attend and present from Mariposa Dairy Ltd. The Vandenberg's began their processing plant in 1989 as an on farm business milking a herd of 130 goats. They quickly grew to 1300 milking goats and now purchase milk from local farms to meet product demand.
Ms Haley agrees with S.A.C., visionaries live in Canada. "The announcement of the Gay Lea Foods and Mariposa Dairy partnership is very exciting for the dairy goat industry." she says. "This type of commitment from these two leaders shows the vision and future growth that the dairy goat industry is capable of when the industry works together."
Gay Lea Foods sees many growth opportunities both in Canada and beyond, demonstrating further commitment to Ontario dairy goat producers with the acquisition of Hewitt's Dairy in 2014 and more recently a minority share purchase in Mariposa Dairy Ltd. "Welcoming new dairy goat producer members and the new investment in Mariposa Dairy Ltd. further strengthen the position of Ontario agri-food as a leader in both domestic and international markets." says Michael Barrett, President and CEO of Gay Lea Foods Co-operative Ltd.
To hear more from Ontario Goat and Mariposa Diary's Bruce Vandenberg attend the Purina Dairy Classroom from 2pm – 3pm on Thursday, April 7th at CDX. GayLea is located in Hall 2 and the TMR & Forage Superstore at CDX 2016.
Products & Consumers
The growth of the dairy goat milk industry is consumer driven. Similar products made from cows milk are now being made from goat milk – skim, 1%, 2%, homogenized, organic and chocolate milks, cream, buttermilk, yogurt, sour cream, ice cream and cheese are being produced, with new products being introduced all the time.
Dairy producers attending CDX are not just commodity producers, but also loyal consumers of dairy products themselves. And let's not forget the 350 agribusiness companies and staff exhibiting at CDX, who are also often loyal consumers of dairy products.
2 opportunities exist for sampling dairy goat treats at CDX 2016. Attend the Ontario Goat/Mariposa Dairy presentation in the Purina Dairy Classroom and also attend the popular CDX CheeseFEST for complimentary sampling. Tasting is believing when it comes to this commodity!
The Canadian Dairy XPO salutes the Canadian dairy goat industry and looks forward to working together to feature its vast potential!
Return to Industry Buzz.
3.12.2016