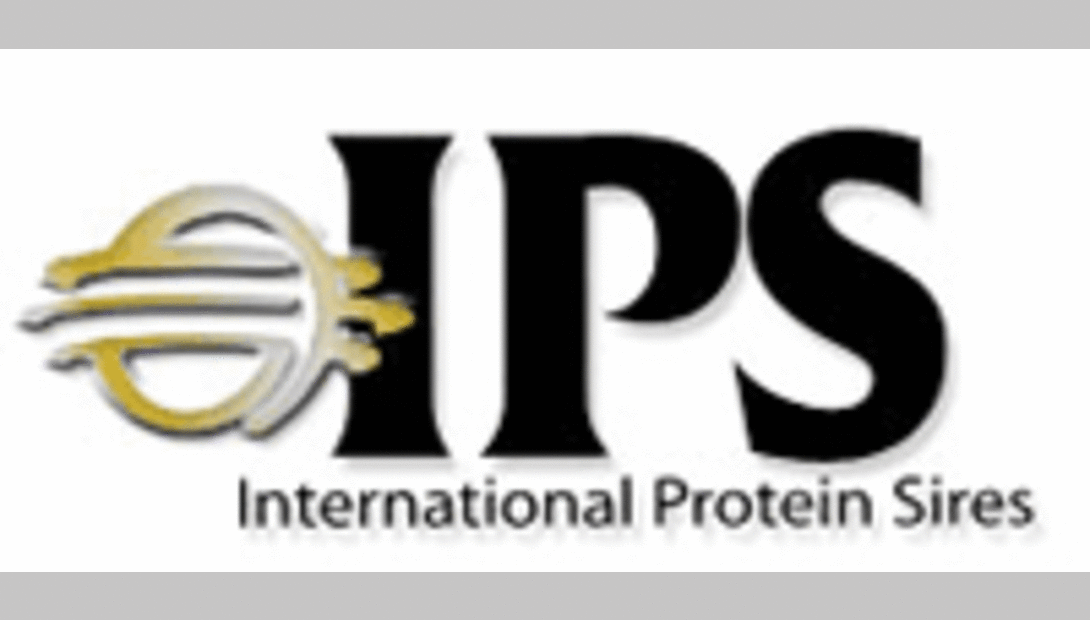 With the April sire summaries, International Protein Sires added new genetic opportunities. "As dairy producers focus on different selection criteria, we are excited to announce that our newest additions of genomic and daughter proven sires meet the most rigged standards. And further, our track record has demonstrated high conception rates from this diversified lineup," stated Ron Sersland, President and CEO of IPS.
A leading GTPI sire for IPS is 566HO1251 NET WORTH at +2632. His credentials are noteworthy for most categories. NET WORTH is a components booster at +0.14% fat and +0.08% protein. He rules supreme for productive life with a +8.9 ranking and a superior NM$ ranking of +808. In addition, NET WORTH is +561 pounds of milk and nearly +2.00 on type. His sire stack is; Troy, O Daddy, Robust, then Goldwyn.
IPS continues to bolster their homozygous polled offering with the #3 ranked bull, 566HO1259 RAMP UP PP. A 1,483 pound milk bull, RAMP UP also adds component test; +.01% for protein and +.04% for fat. His type proof comes in at +1.77. This dehorning specialist is plus for productive life at +3.5 and has been designated A2A2. RAMP UP is sired by Powerball P and from a promising two-year-old daughter of Man-O-Shan. The next dam is an Excellent daughter of Magna P while the third dam is an EX-92 Goldwyn daughter.
A new addition for red Holstein enthusiasts is 566HO1258 AFLUENT-Red. This influential breed improver ranks #8 GTPI for Red bulls. A great type bull at +2.50, AFLUENT-Red is also a standout for udder composite with a +2.40 rating. His type rating ranks AFLUENT-Red #1 among the top ten Red & White GTPI sires. In the milk department, AFLUENT-Red is +788 with +.08% fat and +.05% protein. AFLUENT-Red is sired by Dresser and backed by an elite cow family. His dam is a Very Good daughter of Ladd P-Red. AFFLUENT's grandam is an EX-94 Shottle daughter while the next dam is an EX-92 Champion daughter.
A new member of the GTPI leadership club is 566HO1261 JODANDY at +2616. A superior milk bull at +2,341, JODANDY also shows combined fat and protein at +176 pounds. This superior genetic package is only one of seven bulls over +2600 GTPI and +2,300 pounds milk. On the type side JODANDY shows great credits; +1.90 for type, +1.50 for UDC and +1.43 for FLC. These notable credentials give this breed improver a +826 NM$ rating. JODANDY's sire is Montross while his dam is an up-and-coming Man-O-Shan daughter.
A real head-turner is 566HO127 BOCA JR at +2591 GTPI. This Distiller son is a standout for type at +1.95 along with being +2.20 for UDC and +2.27 for FLC. BOCA JR reigns supreme for productive life with a +7.1 rating. He is also +726 for NM$. Refreshing genetics, BOCA JR has no Mogul, Montross, Supersire or Numero Uno in his pedigree.
A graduate from the IPS progeny test program is 566HO1162 LETS GO. With added daughters from the December sire summary, LETS GO is a breed leader for type; #13 for at +2.75, #26 for foot and leg at +2.13 and #42 for udder composite at +2.17. He is also plus for both fat and protein test. LETS GO is an Atwood son from an EX-90 Mac daughter. The next dam is an EX-94 daughter of Shottle with 41,150 pounds of milk. These credentials assure durable, hardworking daughters.
Another previously released daughter proved bull is 566HO1226 PARIDE at +2083 GTPI. PARIDE is a rock-solid milk bull with strong type. His udder composite rating of +2.75 ranks PARIDE at #7 in the breed. And, his +3.7 productive life score indicates superior fitness qualities. PARIDE is a Dorcy son, backed by a great cow family. His dam is EX-92. His grandam is EX-91 while his third dam is EX-91.
These new additions at IPS are genetic opportunities that reinforce an already impressive Holstein sire lineup. IPS semen is available around the world via a network of employees and independent distributors. Located in Rock Springs, Wisconsin, you may seek additional information about IPS through their website, www.ipssires.com or by calling toll free: 1.800.542.7593
Return to Industry Buzz.
4.12.2016