Case studies showcasing dairy business transformations are now available online through the Center for Dairy Excellence. Documenting eight families' decision-making process with guidance and input from teams of professionals, the detailed studies were made possible through a grant made possible through the USDA "Farms for the Future" program.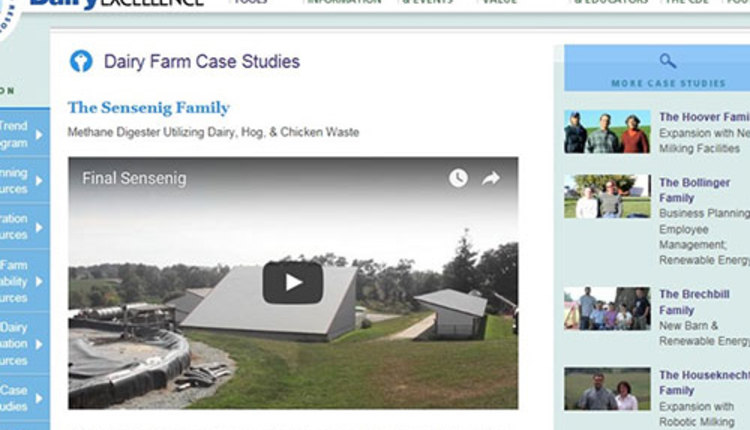 "Even when it becomes apparent that a change is needed, it is often daunting for dairy farms to effectively go through the planning process, brainstorming, budgeting and other factors which would help make an effective decision," said Jayne Sebright, interim executive director of the Center for Dairy Excellence. "These case studies demonstrate that using a Transformational Team of experts can keep the process on track and help make clear the pitfalls and the advantages of taking action."
The USDA grants became available in 2010, and the center identified 10 dairies throughout Pennsylvania who received seed money from the grant and agreed to document the planning and decision-making process. Seven of the farms completed the process, and their steps are documented and available for viewing at
www.centerfordairyexcellence.org/dairy-transformation-case-studies/
. Transformation project areas include herd expansion, robotic milking systems, renewable energy, business planning, succession planning, direct marketing, and employee management.
The finished case studies now available online provide a template for those who may be looking to transform their operations, showing in detail the considerations needed to evaluate the benefits of change and then the steps taken to implement the change.
Those whose projects are documented on the website include:


Jeff and Jesslyn Balmer, Stoney Path Farm, Lititz - Expansion with Robotic Milking System & Succession Planning

Andrew and Andrea Bollinger, Meadow Spring Farm, Lititz - Business Planning, Employee Management, Renewable Energy, Marketing and Diversification

Reid and Diane Hoover, Brook-Corner Holsteins Lebanon - Expansion with New Milking Facilities

Bill and Stacey Houseknecht, Columbia Cross Roads - Expansion with Robotic Milking System

Hurst and Forry Families, Oregon Dairy, Lititz - Succession Planning & Business Planning

Tim and Deborah Kurtz, Kurtz Farm, Elverson - Expansion with Robotic Milking System

The Sattazahn Families, Zahncroft Farm, Womelsdorf - Forming an LLC & Direct Marketing

Cliff and Andrea Sensenig, Sensenig Farm, Kirkwood -Methane Digester Utilizing Dairy, Hog, & Chicken Waste
The Kurtz family had a Transformational Team that helped look at the feasibility of using robotic technology to make it possible for their family to continue in the dairy business. Kurtz said, "Communication was important, and we needed multiple advisors. The team left no stone unturned in our quest."
Andrea Sensenig said, "Our Transformational Team helped us decide if having a methane digester was for sure what we wanted to do. The center was critical in getting the project off the ground." Cliff Sensenig added, "It was important to gather around the table and look at every aspect of the project."
To see videos from the families and look at the Transformational Team Case Studies, visit
www.centerfordairyexcellence.com
, click on "Business Tools" and then on "Case Studies."
For more information about the case studies or to learn more about the continuing Transformational Team program, call the Center for Dairy Excellence at 717-346-0849.
Return to Industry Buzz.
4.29.2016