The 140th Annual Meeting of the American Guernsey Association was held during the National Guernsey Convention this past week in Bloomington, Minnesota. The Minnesota Guernsey Breeders Association hosted the event for over 200 attendees. Farms visited over the week included Breezy Point Farm owned by the Laska family; Whirlwind Acres owned by the Fritsche family and Up The Creek Guernsey Farm owned by the Andersons. Several Minnesota attractions were visited, as well as the Bonnie Mohr Studio.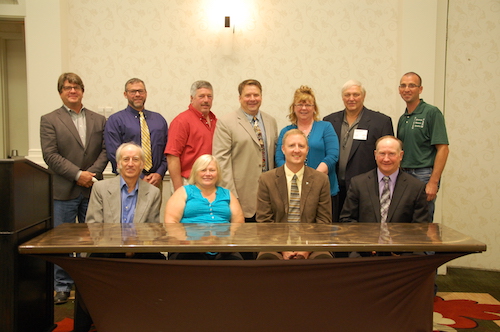 The American Guernsey Youth Association also held its convention and annual meeting during the event. Highlights included the naming of the contest winners, including Laura Jensen of Comstock, Wisconsin, being named the National Outstanding Guernsey Youth. Stefani Evers of Corvallis, Oregon was crowned the 2016 National Guernsey Queen and Cara Trotter of Enon Valley, Pennsylvania was named the 2016 National Guernsey Princess.
Keith Dixon family
The American Guernsey Association awarded Keith Dixon of Phillipsburg, Missouri, the Master Breeder Award. The Outstanding Young Farmer was Eric Poole of Tarrs, Pennsylvania and Lee Kohler of Baltimore, Ohio, was presented the Distinguished Service Award.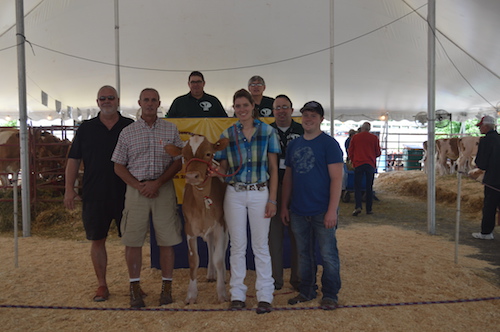 Multiple production awards were presented, with the High TPE Lactation Average for Milk and Protein being awarded to Gurn Z Meadow Farm owned by the Orchard family of Columbus, Wisconsin, with 24,375M 4.9% 1,184F, 3.3% 809P on 26 records. The High TPE Lactation Average for Fat award went to Walnut Ridge Farm of Middletown, Maryland with 19,338M 6.1% 1,197F 3.5% 667P on 19 records. Hoard's Dairyman Farm in Fort Atkinson, Wisconsin took home several awards, including the Top Commercial Herd with a 25,254 Energy Corrected Milk average on 138 records. They also received the Arnold Knight Award for Living Lifetime Protein Production with Dairyman Storm Bonella, who produced 234,665M 4.8% 11,149F 3.6% 8,532P. The Liebers Trophy for Living Lifetime Milk Production and the Valley Set Award for Living Lifetime Fat Production both went to Rozelyn Maxi Joy, who produced 254,660M 4.7% 12,064F 3.2% 8,106P. She is owned by Rozelyn Farm of Lynden, Washington. The New England Trophy for highest 305D Milk record and California Protein Award for highest 305D Protein record both went to Trotacre Indian Altanic Honey-ET owned by Trotacre Farm of Enon Valley, Pennsylvania. She made 3-05 305D 3X 36,300M 4.4% 1,604F 3.5% 1,255P. Walnut Ridge Altanic Lady A took home the Tarbell Trophy for highest 305D Fat Record with 4-02 305D 2X 28,100M 6.3% 1,763F 3.2% 890P. She is owned by Walnut Ridge Farm. Coulee Crest LLC of Cashton, Wisconsin was the recipient of the Nyala- Bedford Trophy awarded to the highest 305D first lactation ECM record with Coulee Crest Gary Lunar-ET. She made 1-10 305D 3X 28,149M 5.2% 1,470F 2.9% 827P and 34,568ECM.
At the 140th Annual Meeting, Brian Dinderman of Orangeville, Illinois was elected as the new Director for District 3, and incumbent Alan Mann was re-elected for another term as Director of District 7. It was reported to the membership that 5,135 animals were registered in 2015. Semen sales were up in 2015 from previous years for Guernsey Marketing Service, and 385 animals were marketed through public sale. The Association had a profitable year in 2015 with a net gain of $48,889 combined with the sale of the building funds for a net income of $137,030.
The convention ended on a high note with the National Convention Sale averaging $3,429 on 34 live animals. The sale was co-managed by the Minnesota Guernsey Breeders Association and Guernsey Marketing Service. Topping the sale was the fancy, end-of-September Kringle from Knapp Guernseys of Epworth, Iowa. Knapps Kringle Tally-ET is a daughter of an Excellent full sister to Knapps Regis Tambourine EX-95, the Unanimous All- American and Jr. All-American Aged Cow in 2015. Tally's dam has records to 27,950M and 1,238F and is backed by the two 93-point dams, Tamera and Tami! She was purchased by Paul Nicley and Ray Lindsey of Indiana and Ohio for $7,900.
Second-high seller of the day at $6,600 was a December American Pie calf consigned by the partnership of Morey Miller, Michael Hellenbrand and Peter Vail of Connecticut. The calf is a daughter of the 92-point Millborne Hillpoint S Fiesta-ET, the Unanimous All-American 4-Year-Old in 2015. With records over 1,000F, she is backed by a 92 and 94 point dam and granddam. She was purchased by Steven van Doorn of Tony, Wisconsin.
Two additional animals sold for $5,900 each. First was a deep-ribbed December Pies granddaughter of Coulee Crest Nick Lorilyn EX-91, former number one CPI cow. The dam of the calf is a Very Good Adacka national class leader for fat with records to 29,590M 1,865F* 1,137P. Consigned by Coulee Crest LLC of Cashton, Wisconsin, she was purchased by John and Marjorie Kuszlyk of Batavia, New York.
Kyle Erickson of Ferndale, Washington, purchased the Guernsey Gold consignment of Karen Anderson from Lester Prairie, Minnesota, for $5,900 as well. Anderson purchased the third dam as a Guernsey Gold consignment in a previous National Convention as a junior. Guernsey Gold consignments can only be purchased by junior members and are entered into a production contest that concludes in 2019. The top first-lactation mature equivalent protein records receive a monetary prize. Erickson purchased a March 2015 Lone Star out of a VG-86 Garrett with 926F backed by a 90-point Monarch with multiple records over 934F.
Top selling embryos of the day were consigned by the Master Breeder Award winner's family out of the Unanimous Junior All-American Sr. 3-Year-Old in 2015. The Dixon family consigned three Lone Star IVF embryos from Dix Lee Kojack Fawn EX-93 that sold for $800 each and were purchased by Leon Zweegman, Lynden, Washington. A second group of four IVF embryos sired by Alymo out of Fawn sold for $750 each. They were purchased by Chupps Guernsey Farm, Inola, Oklahoma.
The American Guernsey Association is dedicated to the advancement and promotion of the Guernsey dairy cows.
Return to Industry Buzz.
7.05.2016