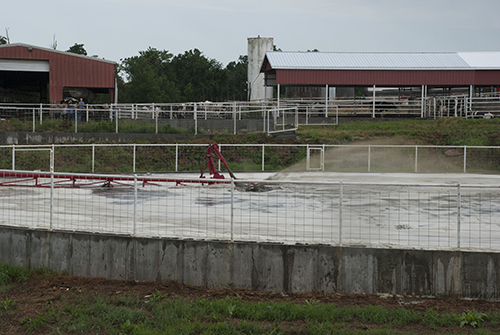 Last year an eastern Washington Federal Judge found that storage and application of dairy manure in ways that may lead to leaching of nitrates to groundwater constituted as "dumping" and "solid waste" under the "Resource Conservation Recovery Act" (RCRA).
However, RCRA has never before been applied to agriculture. The ruling has implications for both livestock and row cropping operations. Simply put, it places a litigation target on agriculture across the country, bringing uncertainty to regulations that may pertain to your operation.
Earlier this month, Representative Dan Newhouse (R-Wash.) introduced a bipartisan bill titled the "Farm Regulatory Certainty Act" (HR 5685). Congressman Newhouse represents the 4th District in the state of Washington and serves on both the House Agriculture and the House Natural Resources Committees.
With the affected Yakima dairy operations in his district, Congressman Newhouse crafted a bill to bring clarity to Congress's intent when RCRA became law. The bill has garnished strong support from both Republican and Democratic members of Congress.
As the law is currently written, agricultural products such as manure or commercial fertilizer are allowed to be returned to the soil for their nutrient value. After the court case in Washington State, it became clear that it was in the best interest of all of agriculture to bring clarity that RCRA does not apply to agriculture practices. As Congressman Newhouse states "a law intended to govern safe disposal of solid wastes in sanitary landfills was never intended to regulate agricultural activities."
Clearly, there are laws regulating agriculture.
The Federal Clean Water Act protects surface waters; the Federal Safe Drinking Act protecting groundwater and individual state laws also protects ground and surface water.
The Newhouse bill would not affect the regulation of any operation under those laws. The Newhouse bill seeks to clarify that RCRA does not pertain to agriculture and is not needed to protect surface and groundwater quality on or around agricultural operations. Agriculture deserves the "certainty" that if you are in compliance with applicable federal and state laws, you will be protected from third-party RCRA lawsuits.
Representative Newhouse and the bipartisan co-sponsors of this important piece of legislation deserve the gratitude and support of all of agriculture.
To comment, email your remarks to intel@hoards.com.

(c) Hoard's Dairyman Intel 2016
July 25, 2016