The information listed below has been supplied by dairy marketers and other industry organizations. The information provided here has not been edited, verified or endorsed by Hoard's Dairyman.


On Sept. 7, Alltech, KEENAN and Haier Financial Services, the financial subsidiary of Haier Group, signed a memorandum that aims to build a healthy agricultural ecosystem in China.
The three parties intend to establish a long-term strategic alliance and cooperation in the Chinese agriculture industry. Under the alliance, Alltech, a global leader in animal health and nutrition, will provide service to the farming sector through its expertise in animal nutrition innovation, including antibiotic-free feeding solutions, feed safety and traceability, and on-farm support services. KEENAN, an Irish-based company recently acquired by Alltech, will deliver their feed mixers and InTouch technology to China, while Haier Financial Services will offer financial and capital support to customers. In joining forces together through this collaboration, the companies hope to further sustainable agriculture in China, the world's leading producer of animal feed.
"Trade missions are all about building relationships, and it is encouraging to see leading Irish companies such as Alltech and KEENAN enhancing their presence in the Chinese market," said Ireland's Minister for Agriculture, Food and the Marine Michael Creed T.D.
Founded by Irish entrepreneur and scientist Dr. Pearse Lyons in 1980, Alltech improves the health and performance of people, animals and plants through nutrition and scientific innovation, particularly yeast-based technology, nutrigenomics (the science of analysing nutrition's impact at the genetic level) and algae.
Having seen rapid growth in recent years, Alltech now has nearly 100 manufacturing facilities globally. For more than 30 years, Alltech has been involved in Chinese agriculture, with its office in Beijing providing nutritional solutions in animal production to the Chinese market for the past 22 years.
"Over our time here, we have witnessed dramatic changes within the industry as China has grown to be the largest feed market in the world," said Dr. Mark Lyons, global vice president and head of Greater China for Alltech. "Today, as China pushes for scale, efficiency, quality and safety, new investment and new thinking are required. Haier Financial Services' financial support and Alltech and KEENAN's technical expertise will assist this transformation, and we are very pleased to be partners in this progress."
Haier Financial Services is the financial subsidiary of Haier Group focusing on business ecosystem finance with the vision "smart finance, reliable partner." It provides comprehensive financial services, technical support, management consulting and multiple resource integration services under the principle of doing positive, ecological and cooperative finance. It tries to form a community of interests with parties of the business ecosystem and create a win-win ecosystem by way of "seed, grow, harvest, sale."
"Haier Financial Services are looking forward to working with Alltech to help China improve the agri-food system," said Jason Zhou, CEO of Haier Financial Services.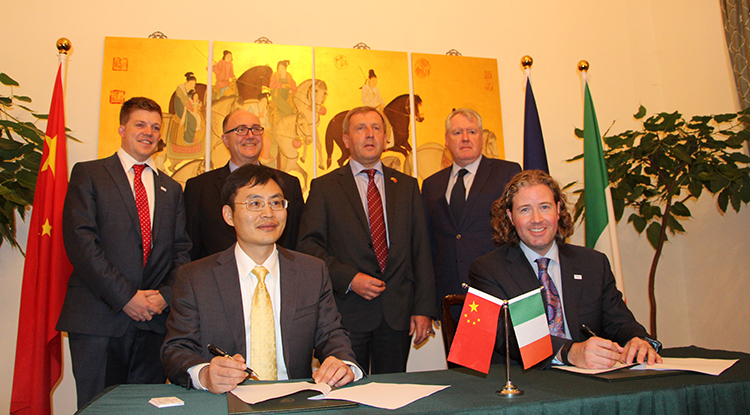 The landmark partnership aims to redefine how farming is done in China, addressing key industry challenges while also creating an opportunity for farms to innovate in China. The partnership has five key components:
The partnership will see the parties share customers with a view to maximise the number of farms that can benefit from financing and top-quality services.


Farms recommended by Haier Financial Services will receive training from Alltech's global team of consultants. This will allow these selected farms to benefit from new technologies and to apply them more quickly.


The collaboration will focus on key regions for agriculture development. These areas have been marked by the companies as vital to the development of professional, scaled agriculture production in China across all sectors of farming.


Alltech will provide training and technical support to Haier Financial Services' staff, improving their understanding of animal nutrition and the latest technologies available to enhance animal performance, farmers' profitability and the sustainability of environmental resources.


Alltech is widely regarded for its educational events, including its annual international conference. This new alliance will open opportunities for Haier Financial Services customers to benefit from the international networking and knowledge-sharing delivered through these types of events.
Return to Industry Buzz.
9.14.2016