The Distinguished Service Award recipient this year is Dr. Leigh Walton.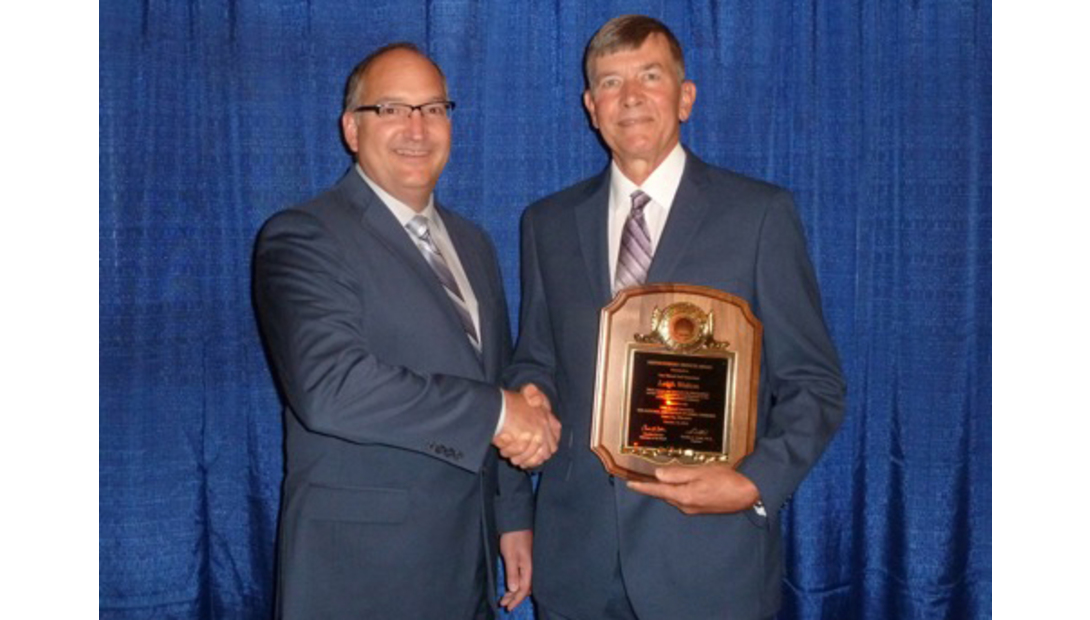 NAAB Board Chairman, Chuck Sattler presenting the 2016 NAAB Distinguished Service Award to Leigh Walton, CDCB Technical Applications Manager (formerly of USDA-AIPL-ARS).
As the CDCB Interim Technical Applications Manager, Leigh was instrumental in the process of transferring the distribution of genetic evaluation file postings and results from USDA AIPL's servers to the new CDCB servers in March/April of 2013. The timeline was extremely tight with only a few weeks lead time and the transition went extremely smooth. Leigh provided excellent communication during this process. Leigh has provided excellent, pro-active customer service for many years as the IT Specialist for USDA AIPL and then again as the CDCB Interim Technical Applications Manager. Leigh ensured genetic evaluation files were accessible and posted in a timely manner. He worked diligently to respond quickly to issues as they were identified and was committed to quality control. Leigh has worked in a most cooperative manner with the NAAB IP Committee to address genetic evaluation data file exchange process improvement requests and provide timely test files. Throughout the years, Leigh always maintained a positive "can do" attitude and provided excellent communication and follow up with the IP Committee. Additionally, Leigh has been a strong proponent of enabling easy data access and collaboration throughout our industry by ensuring the perspectives and needs of all cooperators are included and attended to. Leigh provided a very valuable service to the industry when he agreed come out of retirement to help with the CDCB transition and share his knowledge with newly hired staff. Leigh's friendly and humble personality made it very easy and a pleasure to work with him. As a testament to his impact in our industry, Leigh has already been a recipient of the following awards:
2010 NDHIA Outstanding Service Award
1999 USDA Extra Effort Award for enhancing the genetic improvement of the U.S. dairy industry by improving the efficiency of data processing at AIPL
Congratulations, Leigh.