For more than 60 years, Hoard's Dairyman readers could rely on a good laugh facilitated by the tip of Chuck Stiles pen. His "Ed and Emma" cartoon series was one of the longest running cartoons in the world running in Hoard's Dairyman from 1953 to 2015. Along the way, Stiles charmed the magazine's readers as they joined in the adventures of the two signature characters he created — Ed and Emma.
The long-time cartoonist's relationship with Hoard's Dairyman began in a most inconspicuous way. Stiles was waiting at a taxi stand in Washington D.C. and happened to pick up a copy of Hoard's Dairyman from a little table. He mailed Hoard's Dairyman editor Bill Knox a letter and a dozen or so cartoons. That 1951 letter resulted in a few Stiles' cartoons appearing in the magazine. The first versions of his cartoons in 1952 depicted a married couple discussing various topics related to dairy. In 1953, the cartoon characters received the names Ed and Emma along with their home across from the editorial comments.
The rest is history.
At the end of October, Hoard's Dairyman lost a great friend when Stiles passed away peacefully at the age of 95 following a long career in newspaper and art.
Stiles was raised in a small North Dakota town where his interest in drawing and newspaper was born. His father was a country newspaper printer, and it was at his feet that Stiles got his start. In a 2002 Hoard's Dairyman article, Stiles recalled helping with the newspaper by pasting labels on to the newspapers before hauling them to the post office in his little red wagon.
During World War II, Stiles served in the Joint Assault Signal Corp that directed naval gunfire during the Pacific Campaign. A Bronze Star medal for meritorious service acknowledged his service as a Sergeant during the campaign.
Following the war, Stiles attended the American Academy of Art in Chicago for a year on the GI bill. He then chose to return to his newspaper roots working for a string of different newspapers in North Dakota, Washington, and California. He spent the largest portion of his career at Riverside Press Enterprise in Riverside, Calif.
His side job, creating agricultural cartoons, is the one that won the hearts of Hoard's Dairyman readers. "Ed and Emma" was one of Stiles' proudest accomplishments as he penned every single one of the more than 1,400 cartoons himself. To come up with content for the cartoons, he relied heavily on his experiences growing up in rural North Dakota as well as ideas spurred from reading the pages of Hoard's Dairyman.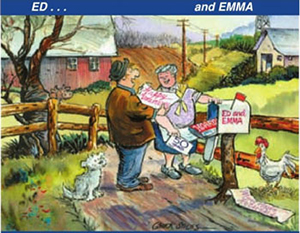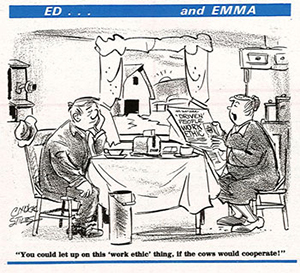 During the 62 years that Ed and Emma ran, every issue featured a new episode. Nearly every installment of the cartoon showed Ed on the left and Emma on the right as Ed was often depicted making a remark and Emma a truthful, yet not sarcastic, retort.
Stiles said he was careful to avoid sarcasm in Emma's responses as he found readers didn't enjoy the sarcasm as much. The imaging of the cartoon was especially important to Stiles, and he made sure to make the drawing a focal point.
Perhaps Stiles' storied cartoon career was best summarized in a quote he provided for the 2002 Hoard's Dairyman article, "I look at life and smile. That's the motto I live by," Stiles said. "If somewhere out there someone who was once miserable is made happy, then it is all worthwhile."
Thanks, dear friend, for all the smiles and laughs you brought to our team and our readers.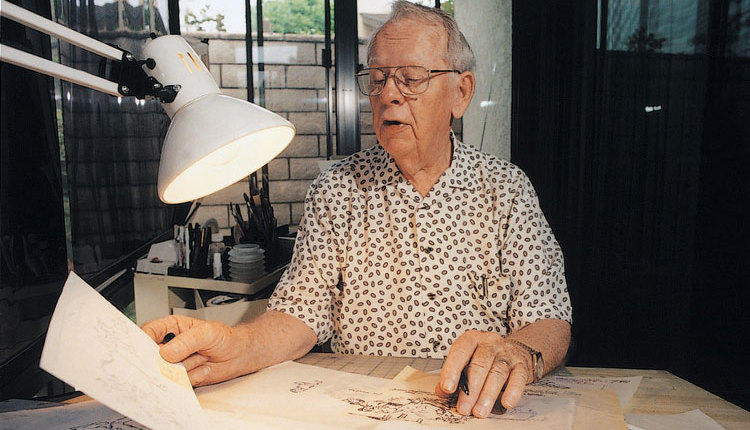 ---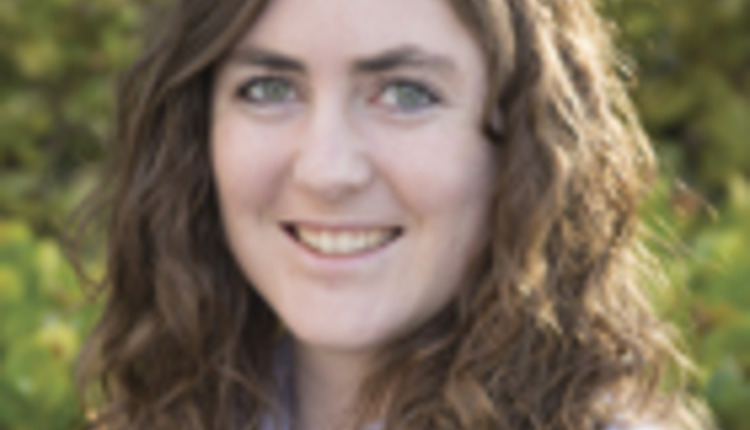 The author is an associate editor. She covers feeding and nutrition, youth activities and heads up the World Dairy Expo Supplement. Maggie was raised on a 150-cow dairy near Valley Center, Kansas, and graduated from Kansas State University with degrees in agricultural communications and animal sciences.