Out with the old and in with the new. That's the nature of food fads. Perhaps one of the best examples of this truth is the explosion in popularity of Greek yogurt. The debut of this super food shoved aside bland cartons of plain yogurt for exciting new flavors and mix-ins to make it one of the biggest up-and-coming super foods. For an economic perspective of the rise of Greek yogurt, simply look at the 2009 market share of the product. At that time, Greek yogurt sales by volume made up only two percent of total yogurt sales. By 2012, that percentage was 34 percent. Talk about a food fad.
The question is can other dairy products follow Greek yogurt's lead?
Cottage cheese has been a stagnant market for several decades holding pretty steady around $1.1 billion in sales and accounting for around two percent of total dairy sales. In the dairy case, many a consumer overlooks the product for other, more flashy health food options.
In a recent The Wall Street Journal article, the general manager of 301 Inc., which is the venture-capital arm of General Mills, summed cottage cheese's roll in the dairy case as "flyover country." Cottage cheese hasn't given anyone a reason to stop and check it out.
So, what would a cottage cheese comeback look like?
New packaging is a focus for some cottage cheese marketers that have moved the product into serving sized containers. Other marketers have added flavorings such as fruit or spices to give the otherwise flat dairy ingredient some life.
The upside for cottage cheese could be exciting as it offers more protein and less sugar than Greek yogurts tend to. That being said, it also comes with the downside of a substantial amount of sodium.
Only time will tell if cottage cheese can mount a comeback. Even more important to the dairy industry will be to discover if cottage cheese can create a market space of its own or if it will simply leach off the markets of other dairy options.
---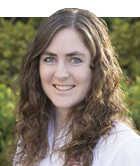 The author is an associate editor. She covers feeding and nutrition, youth activities and heads up the World Dairy Expo Supplement. Maggie was raised on a 150-cow dairy near Valley Center, Kansas, and graduated from Kansas State University with degrees in agricultural communications and animal sciences.