Fall lasted particularly long throughout the country this year, but as temperatures drop and snow joins the party, winter seems to have finally arrived.
The Northern states and their dairy producers are accustomed to weathering the cold and snow, but it does take extra planning, patience, and attention to keep the farm running smoothly.
That was the general consensus of dairy producers that participated in our "How they handled the cold" roundtable run in December 2014. In light of this week's snow and cold, we thought it might be good to revisit the suggestions of the participants related to keeping things warm and dry around their farms during the winter months.
"We have found prevention is the best way to handle the cold. We have a routine every winter to winterize our farm," shared the Reynolds family of Reyncrest Farms in Corfu, New York. That routine includes having winter fuel supplies in place by November, making sure a heater is available for the barn, and ensuring block heaters are working for the equipment.
Preparation and monitoring is also key to Benbie Holsteins' strategy for the cold winters. The Saskatchewan, Canada, dairy said, "Weight loss is something we monitor closely during the cold months. The animals need a substantial amount of energy for maintenance and growth, therefore they will consume a considerable amount of feed." They add energy to the diet to address this concern during winter months.
Winter readiness also means minding groups on the dairy that are particularly susceptible to the cold. At Crosswind Jerseys in Elkton, S.D., Stefan Temperli and his staff upgraded their calf facilities a few years ago to address this vulnerable group. They now place calves in a warm-up box immediately after calving and then move them to a climate controlled calf barn that is kept at 58°F.
On Brock Farms in Daggett, Mich., it is the older lactating cows that get a little extra attention during particularly cold winters like the one the farm endured in 2013 to 2014. The farm noticed cows were handling the cold poorly. They took steps, such as pausing regular hoof trimming and feeding forages that weren't frozen, in order to lower stress on this group of milk producers.
Winters can be brutal so keep these farms' winter plans in mind as you address those issues that always seem to arise in the cold and snow.
---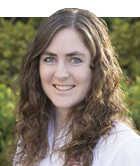 The author is an associate editor. She covers feeding and nutrition, youth activities and heads up the World Dairy Expo Supplement. Maggie was raised on a 150-cow dairy near Valley Center, Kansas, and graduated from Kansas State University with degrees in agricultural communications and animal sciences.