The information below has been supplied by dairy marketers and other industry organizations. It has not been edited, verified or endorsed by Hoard's Dairyman.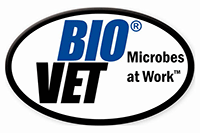 Bio-Vet, Inc. introduces five new products for livestock producers.
BYCEPS™ Paste – A new paste formulation of Calf BYCEPS™ B milk additive for neonatal calves, BYCEPS Paste is a nutritional/microbial supplement for calves at arrival, prior to and during routine stress-related outbreaks. Available in user-friendly 80-milliliter dial-a-dose tubes.

'O' Pecti-Cap™ Jr. capsules provide nutritional support for calves undergoing diarrhea and/or digestive upset. 'O' Pecti-Cap Jr. capsules contain fiber (pectins) to help normalize intestinal consistency, and electrolytes that improve water retention and maintain body fluid levels.
'O' Bovine GoldL

yte®

is a soluble nutritional supplement for dehydrated cattle during hot weather, and during shipping to reduce shrink. 'O' Bovine GoldLyte® may be mixed with water or mixed into the TMR. Available in a 15-pound pouch.

All Bio-Vet 'O' products may be considered for organic use.

In addition to the above, Bio-Vet is introducing these microbial products:
SyniGest™ – A waste treatment blend to aid in breakdown of animal manure, available in 100-gram and 500-gram packets. Standard application rate is 100 grams per 100,000 gallons of liquid manure.
Generator™ ProSacc™ – A direct fed microbial product primarily designed for pre-conditioning and incoming feedlot cattle and weanling calves. Generator ProSacc is now available in a convenient 3-kilogram pouch.
Bio-Vet, Inc., founded in 1991, researches, manufactures and markets direct fed microbial and nutritional products for dairy and beef cattle, small ruminants and horses. Bio-Vet is a leader in using beneficial bacteria to improve animal health and productivity. The company holds U.S. patents for its innovative products.