One of the best things an operation can do for its future is invest in taking care of calves in the first two months. Although that care can be accomplished a great number of ways measuring success by growth can indicate future milk production opportunities.
Data compiled from heifer research projects at the University of Minnesota Southern Research and Outreach Center from 2004 to 2012 and published in the Journal of Dairy Science was analyzed to determine the link between care during the preweaning stage and milk production in first lactation. Based on 2,880 records, larger body weights and average daily gains at 6 and 8 weeks of age improved first-lactation milk and milk component yields.
According to the data, for each 1 kilogram (kg) or 2.2 pounds of 6-week old average daily gain, 544 additional kilograms or 1,197 pounds of 305 day milk were put into the tank in the first lactation. For every 1 kg or 2.2 pounds of 8-week old average daily gain, that first-lactation yield went up 579 kg or 1,274 pounds.
The researchers described this with a caveat, however, mentioning that a great deal of variation still existed in first-lactation, 305-day yields based on birth season, calving season, calving year, calf trial, and farm.
For example, it was found that calves born in the fall and winter had greater starter intake, body weight, and average daily gain at 8 weeks of age. Theoretically, this would indicate higher milk production. On the flip side, while evaluating seasonal effects, calves born in the summer on average had lower average daily gains than their seasonal counterparts but produced 276 kg more of 305 day milk in their first lactation.
Another influencing factor of first-lactation milk was dry matter intake of starter. At 8 weeks, calves that were consuming more starter produced more milk. Again, variation on this association was high.
With the popularity of accelerated feeding programs and focusing on this first two months, the potential is there to significantly improve first lactation potential. What steps will you take to capitalize on it?
---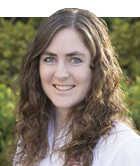 The author is an associate editor. She covers feeding and nutrition, youth activities and heads up the World Dairy Expo Supplement. Maggie was raised on a 150-cow dairy near Valley Center, Kansas, and graduated from Kansas State University with degrees in agricultural communications and animal sciences.