The California landscape has always been evolving but recently the change has expedited dramatically. We all know that land does not multiply in size but the number of people and industries calling California home does. As the competition continues for water, land, and other resources, the dairy industry is fighting for its place.
The San Joaquin Valley in California is known for its ideal weather for raising crops, cows, and kids. Realizing this, many have chosen to live in the valley and grow their families and businesses. Over the years, housing projects have been developing at a rapid pace, taking up more and more farmable land. To see grapevines and alfalfa fields turn into shopping centers and restaurants is a sight to see. The pace of the valley's urban expansion seemed to be picking up speed every year. But who would have thought a growing city was the least notable competitor for land?
In the past few years, thousands of acres have been converted from seasonal crops to permanent crops, shrinking the total acres available for feed products and driving land values through the roof. This movement is starting to cause alarm for many dairy producers. After all, when the crop rotation is corn, wheat, and almonds, it leaves much to be desired in the way of cattle feed-worthy crops.
As resources continue to shrink and regulations continue to multiply, the California dairyman has to become even more purposeful with every step they take.
As I write this I am reminded of a dairy farm a couple miles from where our dairy is today. This dairy was our original, fully functional dairy. At one point, this particular farm was home to the generations that started our family in the dairy industry. Without this facility, I probably would not be writing this article today. Now that dairy is all but demolished, making way for brand new almond trees. Within a year or so, a passerby would never know what existed on that property.
Being in the dairy industry, no matter where you are from, has never been easy and it never will be. There have always been struggles and there will always be trials, but we crazy cow folks are some of the toughest, hardheaded, most stubborn, never quittin' type of people I have ever met. If anyone has the grit to do what we do, it is us.
---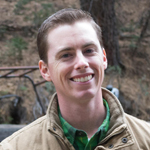 Tyler Ribeiro is a fourth-generation dairy farmer born and raised in California. He is currently partners with his father at Rib-Arrow Dairy in Tulare where they proudly ship their milk to Land O'Lakes. Tyler is actively involved in the dairy industry, holding leadership roles in various organizations locally and across the United States.