The information below has been supplied by dairy marketers and other industry organizations. It has not been edited, verified or endorsed by Hoard's Dairyman.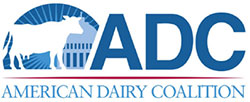 The House of Representatives just passed its version of the farm bill. The vote was 213 – 211, which includes farm and nutrition policy legislation. The Senate will vote on its version for the farm bill next week.
One of two immigration bills, called the "Goodlatte bill", failed on the House floor this morning. This bill included the AG Act.
The second immigration bill has been postponed for a vote on the House floor. This version does not include any policy language that would help dairy producers find necessary workers they need so desperately.
A New Immigration Bill on the Horizon:
This is not time for the dairy industry to give up on finding a way to ensure our labor force. The failure of the Goodlatte bill allows us an opportunity to move forward the new stand-alone guest-worker bill with highly valuable new provisions and decreased government bureaucracy.
Get prepared because ADC soon will need all hands on deck in order to move this new bill forward on the House floor before Congress leaves DC for their August break.
ADC has just completed our mandatory list of "Necessary Principles" that must be included in this new guest-worker bill. Rep. Jeff Denham (R-CA) has taken the lead on the creation of this bill. ADC will continue to work with him to introduce a new guest-worker bill in short order.
ADC Necessary Principles
Questions? Please contact us at
info@americandairycoalitioninc.com
.
American Dairy Coalition
www.AmericanDairyCoalitionInc.com
See what's happening on our social sites:
Twitter
or
Facebook