The information below has been supplied by dairy marketers and other industry organizations. It has not been edited, verified or endorsed by Hoard's Dairyman.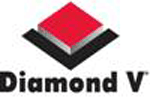 Diamond V recently welcomed Dr. Frank Looff, who has joined the company's Europe team as Technical Sales Support Manager.
"I am happy to announce Frank has joined the Diamond V team," says Chris Van Anne, Managing Director for Diamond V's European Business Unit. "In this new role, he will serve dairy producers, veterinarians, nutritionists, and feed manufacturers, and help Diamond V develop the ruminant market in Germany, Austria, Switzerland, and Hungary."
Dr. Looff was raised on a dairy farm in northern Germany. He earned a business degree and worked five years in finance accounting before returning to university at the University of Kiel in Germany, where he earned his BSc, MSc, and PhD in agricultural sciences and animal production.Prior to joining Diamond V, he worked as a ruminant nutritionist for Pioneer, developing the company's differentiation strategy in both the German and French markets as well as providing technical and commercial support for the company's 80-plusregional sales staff in Germany.
"Frank's dairy background, industry experience, and connections to local stakeholders will be a valuable asset as he communicates the value of our 'Immune Strength for Life' platform," adds Van Anne."He also has an extensive knowledge base covering feeding characteristics of both corn (maize) and grass silagein the complete production system to increase Income Over Feed Cost (IOFC), which will prove invaluable as Diamond V expands in the region."
Dr. Looff is fluent in German and English, and is conversational in Danish. He is based in Hamburg and can be reached at: flooff@diamondv.com.

Diamond V is a leading global animal health company, conducting research in many species, and manufacturing natural, immune support products for animal health, animal performance, and food safety worldwide. Global headquarters and all manufacturing is located in Cedar Rapids, Iowa, USA. More than 75 years of science, innovation, technology, and quality have earned Diamond V the reputation of The Trusted Experts in Nutrition and Health®. Contact Diamond V at +1.319.366.0745 or visit www.DiamondV.com.